Blackouts, snowstorms, and the blistering cold weather are unwelcome heralds of winter. Strong winds, heavy snow, and extreme temperatures can do a number on local power lines, making the power grid incredibly vulnerable to accidents and blackouts. Moreover, snow can weigh the wires down, leading to even more damage.
In the digital age, we rely on electricity for everything: heating water, cooking, entertainment, daily productivity—name it, there's a device for it. Naturally, it is imperative to be prepared for the loss of power at any time of the year, but especially in the bleak winter months.
So, how to prepare for power outages in winter? How do you keep your family warm at home?
Here's a power outage checklist for you to follow and the best practices you need to keep in mind.
Winter Power Outage Preparedness Checklist
Long before electricity is cut off due to a snowstorm, you must be prepared for these challenging periods. Gathering these essentials and checking on them each year will help you maintain peace of mind as the weather turns.
Preparing Emergency Kit Essentials
Here's what you should include in your winter power outage survival kit:
Food and Water Supplies
Your pipes could freeze in the depths of winter, so you may lose access to safe, uncontaminated water. It's best to store a few gallons of water cans to keep you and your family hydrated for a few days.
You need more nutrients to keep warm in the winter. You should also store non-perishables like canned foods, dry fruits and nuts, and packaged goods that you don't have to heat up and keep in your emergency kit for months or even years.
Lighting
Battery-operated or hand-cracked light sources will be crucial to your comfort in case of a power outage. Keep candles and functioning flashlights handy, and make sure you have more than enough batteries at hand. There's no telling how long the next power outage will last, and you don't want to fumble around in the dark.
Communication Devices
With electricity out, your phone may or may not have enough juice for you to communicate with the outside world. Power banks can help with this.
Tower signals may go down due to snowstorms, too. In such cases, what helps is having an old-school wired/corded phone or radio. Having these devices will also ensure you can call for help in case of an emergency.
First Aid Supplies
Along with all of these supplies, ensure you have a first-aid kit handy. Essential medication, bandages, scissors, a thermometer, disinfectant, disposable gloves, and other critical items will help you with injuries and illnesses.
Creating a Family Emergency Plan
Your family should have an emergency plan in place, and everyone should be aware of all the details.
Communication Strategy
First, everyone in your household should know where the emergency supplies are. They are best kept in a place that's easy to access. Everyone should also know where to huddle up should any disaster strike.
You should also create a list of emergency contacts and hospitals nearby and give everyone a copy that they should keep on hand at all times.
Evacuation Plan
Establish an evacuation plan and teach it to everyone. Instruct everyone, especially young children, about the best way to get out of the house and where they should go next, whether it's a vehicle or a nearby area.
Make sure every family member is prepared to face the cold with the warmest winter jackets and layers—these should be easy to access, too.
Winter-Ready Home
As winter approaches, prepare your home just like you would your car. Doing so will keep your home warm even during a power outage and keep everyone safe. You can also reduce your utility bills.
Insulation and Weatherproofing
Insulating your attic and walls with weather strips, caulking, or window film can keep your house toasty and warm. Install carpets on the floor to keep them warm as well. Schedule a professional inspection of your roof and sidings to ensure there are no leaks.
Backup Power Sources
Because your heat depends entirely on electricity, a blackout is going to leave everyone in your house shivering. Even with proper insulation and warm clothes, the cold can easily creep in. It's best to have an additional energy source or backup in such situations.
If you already have a generator, you have one less thing to worry about. However, because the duration of the blackout is unpredictable, you must ration your power output. Have everyone in the house stay in one room to conserve energy.
Consider investing in a portable power station. You can plug in your heater and other essential appliances to keep warm until your power is back.
If you are thinking about going solar or you already have a robust solar panel system in place, consider installing a solar generator. They are ideal for power backups in an emergency. You can keep using essential appliances during a power outage.
Solar generators are powered by energy from your existing system, which can then be accessed during an emergency. Growatt INFINITY 1500 portable power station has a capacity of about 1512Wh. This is enough to power a heavy-duty appliance like a 300W blender for approximately 4.3 hours!
Download Growatt Power Outage Preparedness Checklist Here
Tips to Stay Warm During a Winter Blackout
Alternative Heating Methods
Keeping warm during a snowstorm can be challenging. While indoor gas and propane heaters can keep you warm, they are quite risky. The most obvious is that they are fire hazards. And if you have children, having an open fire for extended periods may not be the best choice. You can also use your safety-compliant fireplace, but you may not have enough wood to keep it going for more than a few hours.
Gas, portable stoves, or propane heaters emit carbon monoxide during use. This can be grave to one's health or even cause carbon monoxide poisoning and threaten life safety, especially when used in a closed space. Do not keep them on for extended periods, and make sure your carbon monoxide detector is up-to-date and working. Evidently, they ought to not be used indoors.
Insulating Your Home
Aside from the conventional methods of insulation, draft guards can also help keep your house warm. Stick them on the gaps between the floor and door to prevent heat from escaping, making your home nice and toasty.
Professional contractors can help you with insulation solutions that will help even during a power outage. Consult with them so you can keep your family safe and warm even when you don't have electricity.
Dressing for the Weather
The cold calls for multiple layers of clothing. Stock up on breathable inner fabrics—sweating in cold weather could lead to hypothermia. Make sure you have lots of warm socks and scarves. The best outer layers depend on the local climate and how cold it gets, but warm and waterproof options like fleece are excellent.
The cold weather can make you feel sluggish, so it's important to keep your body moving. Do light stretches and jog in place if possible. Doing so will keep your body temperature up and your heart pumping faster, helping you stay warm.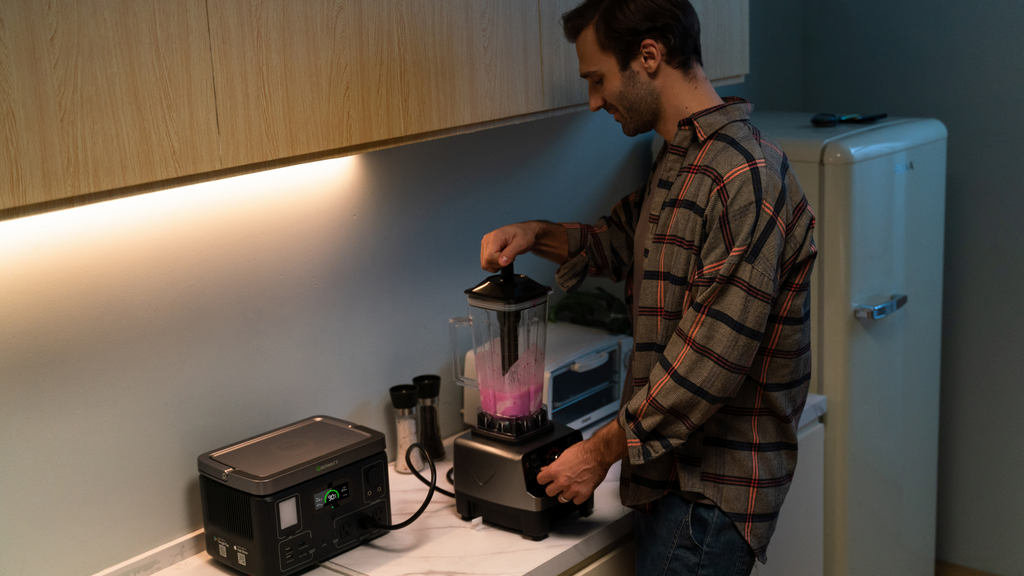 Conclusion
When preparing your home for the winter, make sure you have a detailed contingency plan for blackouts. Tick off everything on this list and more to stay safe during a snowstorm at home. Prepare your emergency kits, including non-perishable foods, water, a first-aid kit, and lighting and communication devices. Winterize your home with proper insulation and put backup power sources in place.
Remember, during challenging situations, communication is key. Talk to your family members about emergency preparedness plans so you are all on the same page should various situations arise. Family members should know where to find supplies, how to evacuate the house (when needed), and whom to contact. It's always better to be safe than sorry.
In the event of a winter power outage, layer up and huddle with everyone in one room to make the most of your generator or portable solar power battery.
FAQs
What causes a blackout in winter?
Ice or snow on power lines is one of the most common reasons why blackouts occur in winter. With an abundance of snow, the power lines are weighed down or damaged, leading to interruptions in service.
Winter blizzards can also knock down power lines, leaving thousands of homes and commercial structures powerless and cold until they are fixed. Extreme winter weather conditions also extend the repair time, as crews may have trouble with transport.
How to survive if the power goes out in the winter?
Power outages during the winter can be quite brutal. One of the ways to survive it like a pro is by checking off a winter power outage preparedness checklist. You should store emergency kit essentials and keep them in accessible places. These kits should include food, water, lighting, communication devices, and first-aid supplies.
Make sure your home is well insulated and has a battery backup system like Growatt INFINITY 1500. Wear layers to keep yourself warm and stay in one room to make the most of the limited power in your backups.