Does the coldness of winter make you reach for a warm cup of coffee? Do you like to spend your evenings in the snow watching movies with your loved ones or all by yourself? But what if a snowstorm blows out your power and takes away these joys from you?
Don't worry, there is a practical and eco-friendly way to keep your devices on and the heat running: a portable solar generator. Perhaps you have wondered earlier whether this device works during the cold months. Fortunately, to that question, the answer is a resounding YES.
This brief guide will show you why solar generators can be your savior during the winter and the best out of them!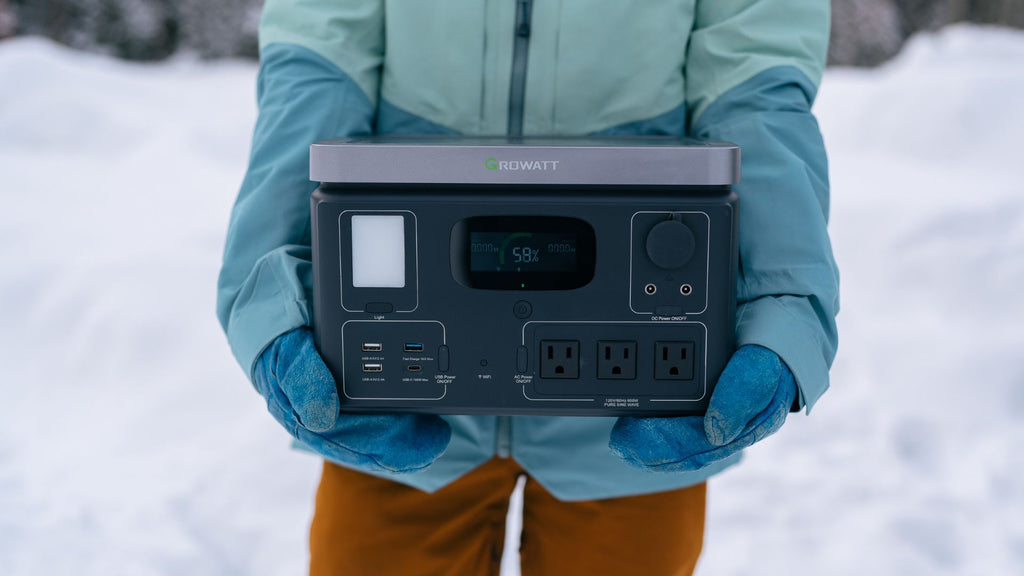 How Does a Solar Generator Work?
Have you heard about battery-assisted solar power systems? Solar generators operate in a similar manner, absorbing energy from the sun, converting it into electricity, and then storing it in a battery pack for later use. However, they possess a relatively small portable design that suits different scenarios.
Solar power generators normally have portable and foldable solar panels, which are a part of the design. This means that a user will have the freedom to fix the panels anywhere that receives much sun, whether it is your rooftop, on your car's roof, or outside your camping tent, and the battery pack in one place that is safe, like inside a house.
Factors Affecting Solar Generator Performance in Winter
Do not be deceived by the clouds you see in the winter because the sun's light is still falling on the earth's surface, even if we do not feel its heat. However, do solar power generators really catch as much of the sun's rays on a cloudy day as they do on sunny days?
Below are some of the things that may cause decreased performance of solar power generators in winter.
Reduced Sunlight Availability
On the whole, there will be a slight reduction in the electricity output of your solar power generator. Nonetheless, providing you get enough daylight, producing solar electricity should not be a problem.
Solar Panel Angle and Orientation
Also, you should consider that the position of the sun affects the performance of your solar power generator during the winter. For most days, it will be sitting lower, which means that the angle of the solar panel needs to be steeper. However, this depends on your particular latitude.
Cold Weather Impact on Battery Efficiency
Both heat and cold are the battery's enemies. Hence, you must monitor the features of a solar power generator to ensure that it functions well in winter. For instance, INFINITY 1500 works at a temperature of −20°C.
Snow and Ice Accumulation
Solar panels will not stop producing electricity even though you have a cloud. But with snow and ice accumulation things are slightly different. You ought to ensure that it does not rain snow and ice on those panels since it will greatly minimize the solar generator's productivity.
How to Use a Solar Generator During the Winters?
As stated in the preceding section, many things and factors could lower your solar power generator's electricity output during winter. On the upside, there are a couple of measures you can put in place to prevent your solar power generator from performance degradation.
Adjusting Panel Angles
Most importantly, the direction you orientate towards your solar panel determines the amount of sun the panels catch for the whole day. Luckily, portable models come with detachable panels which you can put anywhere.
For most US homeowners, experts say that the best angle for solar panels is 30° minimum and 45° at max. It follows that you should tilt your panels as much as your latitude. The goal is to help to maximize solar power efficiency on your part.
Keeping Panels Free of Snow and Ice
Solar panels will always be affected by snow and ice, regardless of where they are. Hence, always make sure that there are no accumulations on your panels and if so get rid of them as soon as possible. It will also help in maintaining the integrity of the panels.
Generator Maintenance in Cold Weather
When you are in a situation where you are off the grid, such as camping or driving a camper, you expose the portable power generator to various weather conditions. In all instances, keep the device away from water. It is safe to leave your solar panels exposed throughout the day. However, it is important to keep them clean and protected from extreme weather conditions such as heavy rain and storms to ensure optimal performance.
Reducing Energy Consumption
You can also consider lowering energy consumption so that you can keep the electricity level in the portable power station. It is possible for solar panels to work just fine during winter but there could also be days when you cannot get as much sunlight as you need, requiring you to minimize energy consumption.
What Appliances Are Best Used with Solar Generators in Winter?
You need to check the energy requirements of your appliances and see if it matches your solar generator's capacity. Some of the appliances and electronics your solar generator can power during winter include LED lights, portable heaters, laptops, coffee makers, and others. As a general rule of thumb, avoid those appliances that consume too much energy and prioritize the energy-efficient ones. You can still use other appliances like refrigerators for as long as they're the energy-efficient type and you use them intermittently. You can also prioritize items that will help make winter more comfortable like your  heating pads/blankets. Traditional power sources may be unstable during winter, so you may have to power your water pumps as well. For more peace of mind, consider having a backup power supply to better prepare for the cold season and cover more essential appliances and energy needs.
Conclusion
It is almost impossible to resist joining the solar trend. Millions of people are abandoning the grid and they are turning to solar energy for their household power. However, what if you live in a snowy place? You may be concerned that you won't be able to use solar power as a backup.
However, the emergence of more advanced solar-powered devices has made it possible for people to use their solar system as a backup source of power for their homes in the winter season. It is cheap and ensures that all your devices and appliances are not connected to diesel or gasoline-powered generators.
Thus, what is holding you back from keeping your house right during the winter season? If you feel that your home needs a solar power generator then go for a GROWATT! This firm has been operating for long and they will always deliver trustworthy products and reliable service to you.