Navigation
Introduction
Backup power generation has become increasingly critical for homes that rely heavily on sensitive electronics, medical equipment, refrigerated medications, and other essential appliances.
Power outages can disrupt lives and put health and safety at risk. As technology becomes even more integral to how we live and work, portable backup generators have evolved to provide more power, longer run times, and enhanced features - and they continue to improve rapidly.
In 2023, there are more options than ever before to ensure your critical loads stay powered when the grid goes down. For those wanting the latest and greatest in home backup power for 2023 and beyond, this guide explores the options, highlights key factors to consider, and recommends some of the best portable generators to keep your sensitive home electronics, appliances, health equipment and other essential items running even during extended outages. Reliable home backup power is now within easy reach.
What is a home backup generator?
A home backup generator is a device that provides alternative electrical power to a home during a power outage. It helps ensure critical loads remain powered even when the main electrical grid is down. Know more from our blog.
Key benefits of home backup generators
Provides emergency power for critical circuits - Keeps essential items running like lights, appliances, medical equipment, sump pumps, refrigerators, etc.
Peace of mind - Ensures you have power even during major outages for things that significantly impact daily life or health/safety.
Protects sensitive electronics - Prevents damage or loss of sensitive equipment, tools or appliances that could suffer power surges or spikes.
Allows you to shelter in place - Gives you the option to stay home rather than evacuating during some outages if power is only expected to be out for a short time.
May be required for medical needs - Some people rely on equipment like CPAP machines, oxygen concentrators, refrigerated medications or other life-sustaining power sources during an outage. A home backup generator provides this backup power.
How does home backup generator work?
Home backup generators operate in essentially the same three stages as standard power supply chains, but have some key differences:
Solar generation - Uses photovoltaic solar panels to generate direct current (DC) electricity from sunlight during the day. At night or in poor weather, solar generation stops and the system relies on stored battery power.
Energy storage - Large lithium-ion batteries store the DC power generated from the solar panels during the day to use at night or during an outage. The more battery capacity, the longer the run time.
Inversion and power output - An inverter converts the stored DC power to alternating current (AC) that is used to power loads or supplement grid power at typical home voltage levels (120/240 volts).
Important considerations when buying home backup generators
Power output (wattage) - Determine how many watts of power you need to power your essential loads. More wattage means more power but at a higher cost and size/weight. Typical ranges are 500W to 3000W for home use and smaller generators.
Battery capacity (watt-hours) - The battery size will determine how long your system can power loads when not charging. Larger capacities like 800-3000Wh provide 12+ hours of run time but cost more and weigh more. Find the right balance for your needs.
Solar panel capacity (watts) - The solar panels recharge the batteries during use. Larger solar panel arrays will recharge the batteries faster but again cost more. Panel sizes range from 150 to 600W typically for home backup generators.
Number of AC outlets - Consider how many outlets you will need to power all of your essential loads simultaneously. Most have 3 to 6 outlets but some larger systems provide 20 outlets or more.
Voltage options - Many home backup generators output 120V and 240V power. Choose the voltage that matches the power inputs for your specific equipment. Dual voltage systems provide more flexibility.
Maximum surge power - The surge wattage or "peak power" refers to the maximum amount of power that can be briefly drawn from the system before the voltage starts to drop. Higher surge power means compressors, motors and other high-draw loads can start without issue. Important for appliances like refrigerators, sump pumps, etc.
Types of power - Only some home backup generators provide modified sine wave power, which is compatible with sensitive electronics. True sine wave inverters provide higher-quality power but at a higher cost. Choose the wave type that suits your specific loads.
Additional features - Consider things like max AC input for charging abilities, inbuilt Solar Charge Controllers, USB ports, cargo straps for secure transport, cooling fans, cargo cover, etc. depending on your needs.
Cost - Home backup generators range from $500 up to $3000 or more for higher power systems with larger battery capacities. Determine your maximum budget to find alternatives that suit your needs and funds.
Weight and size - More powerful systems, larger batteries and larger solar panels will result in heavier and larger units. Ensure you have means to transport and set up whatever system you choose. Compactness is one benefit of portability.
Choosing home backup generators with Growatt
Our range of home backup generators caters to diverse user requirements. It is highly likely that you will find a home backup generator that fulfills both your power needs and budget constraints, regardless of their extent.
INFINITY 1500 + 200W Portable Solar Panel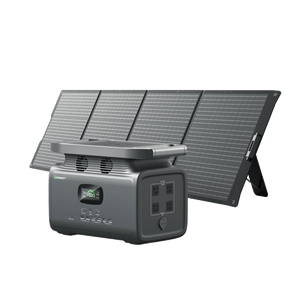 Introducing the INFINITY 1500 + 200W Portable Home Backup Generator - a versatile and robust solution crafted with precision to meet all your power needs anytime and anywhere. Boasting an impressive 1512Wh of battery capacity and 2000W of continuous power output, this home backup generator can efficiently power a wide range of high-demand appliances and critical loads.
With the fast charging function, INFINITY 1500 can be charged quickly. It only takes 60 minutes to reach 80% battery capacity when using wall charging, and 120 minutes for a full charge, allowing you to quickly get back to activity or work. It also supports up to 800W (4 x 200W solar panels) of solar input for outdoor charging, making it the ideal companion for outdoor adventures and extended use.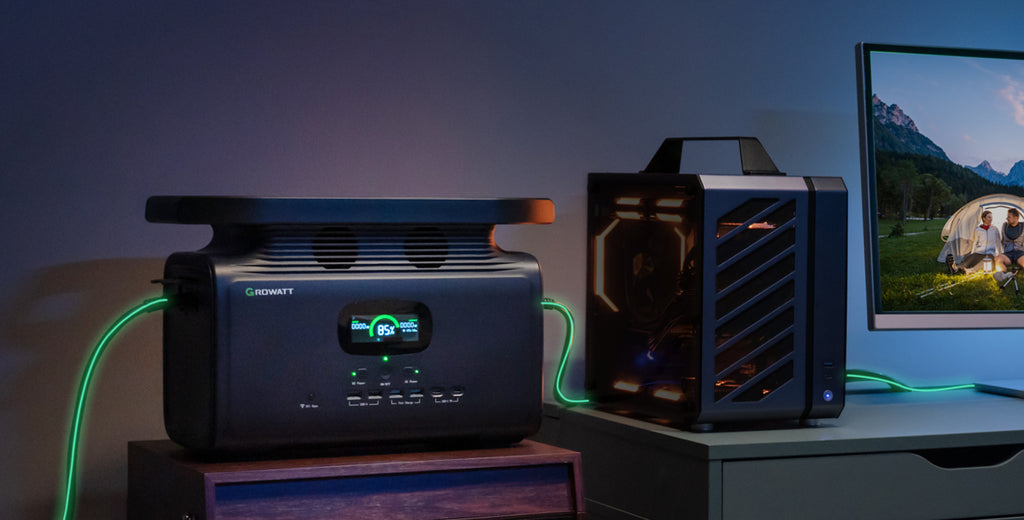 This home backup generator provides 12 different electrical outlets to provide reliable power to multiple of your appliances including refrigerator, air conditioner, TV, appliances and more. A built-in Emergency power supply (EPS) ensures stable 24/7 backup power for sensitive electronics and medical equipment.
Advanced features like the Growatt Smart Control APP MyGro provide easy monitoring, management and firmware updates directly to your device. You get complete oversight and control of your home backup generator anytime, anywhere.
Whether you need power for work, leisure or emergency preparedness, the INFINITY 1500 + 200W Portable Home Backup Generator delivers uninterrupted power supply and peace of mind. With high capacity, fast charging and versatile features, it is the ideal portable home backup solution for most of your power needs.
INFINITY 1300 + 200W Solar Panel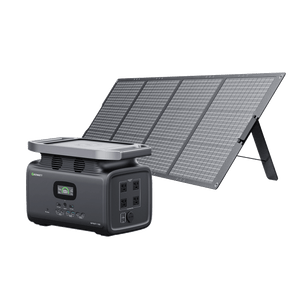 The INFINITY 1300 + 200W Portable Home Backup Generator is a great solution that delivers reliable power for up to 95% of essential home and portable needs. Boasting 1382Wh of battery capacity and 1800W of continuous output power, it can efficiently run appliances, electronics, tools and recreational equipment during leisure activities or emergency situations.
Featuring safer lithium-iron-phosphate (LFP) battery technology, the INFINITY 1300 provides over 3000 charge cycles for long-lasting performance. It recharges quickly too, reaching full capacity in just 1.8 hours using a wall charger or 2.5 hours via the integrated 800W solar input.
With 14 versatile outlets, this home backup generator simultaneously supplies steady 120V and USB power for multiple devices and loads. A built-in Emergency Power Supply (EPS) ensures protected 24/7 backup power for sensitive gears.
Advanced Smart APP MyGro allows for real-time monitoring, management and firmware updates right from your mobile device. You maintain full access and oversight of your home backup generator anytime, anywhere.
Backed by a 5-year warranty, the INFINITY 1300 + 200W Portable Home Backup Generator delivers the reliable, durable and versatile power you need without interruption - wherever your day or emergency takes you. At a mid-range capacity and output, it is the ideal solution for powering essential home and mobile electronics with confidence.
VITA 550 + 200W Solar Panel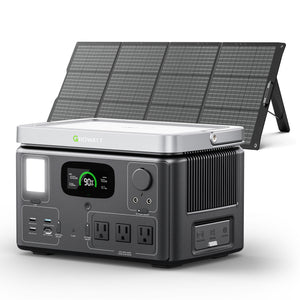 The VITA 550 Portable Home Backup Generator is an affordable yet capable solution, providing up to 538Wh of battery capacity and 600W of continuous power output. It can reliably run up to 90% of essential outdoor electronics, appliances, tools and recreational equipment during extended outings or emergency situations.
Using safer LiFePO4 battery technology, the VITA 550 delivers a long lifespan of up to 10 years and over 3000 charge cycles for maximum performance at minimum cost. It recharges quickly too, reaching full capacity in just 1.6 hours via wall charging or 2.5 hours using the 240W solar input for flexible outdoor charging.
With 11 versatile outlets and a Watt+ boost feature up to 1050W, this portable home backup generator simultaneously supplies ample 120V power for most devices and loads on the go.
Advanced Growatt Smart App MyGro allows for remote monitoring, management and configuration tweaks right from your mobile device. You gain insight into your portable home backup generator and the ability to optimize settings for different scenarios - all while on adventure.
At an affordable price point, the VITA 550 Portable Home Backup Generator provides reliable, durable and versatile power for outdoor and emergency use cases where every watt matters. With up to 10 years of battery life and capacity for essential loads, it is the ideal budget-friendly solution for portable solar energy and off-grid independence.
Conclusion
With increasing threats of power outages and natural disasters, home backup generators have never been more crucial for ensuring the safety, security and comfort of families. Growatt VITA 550, INFINITY 1300 and INFINITY 1500 deliver disaster-ready, backup power solutions purpose-built to safeguard sensitive electronics, essential appliances and life-sustaining medical equipment. No need to feel powerless in blackout again.
Read More