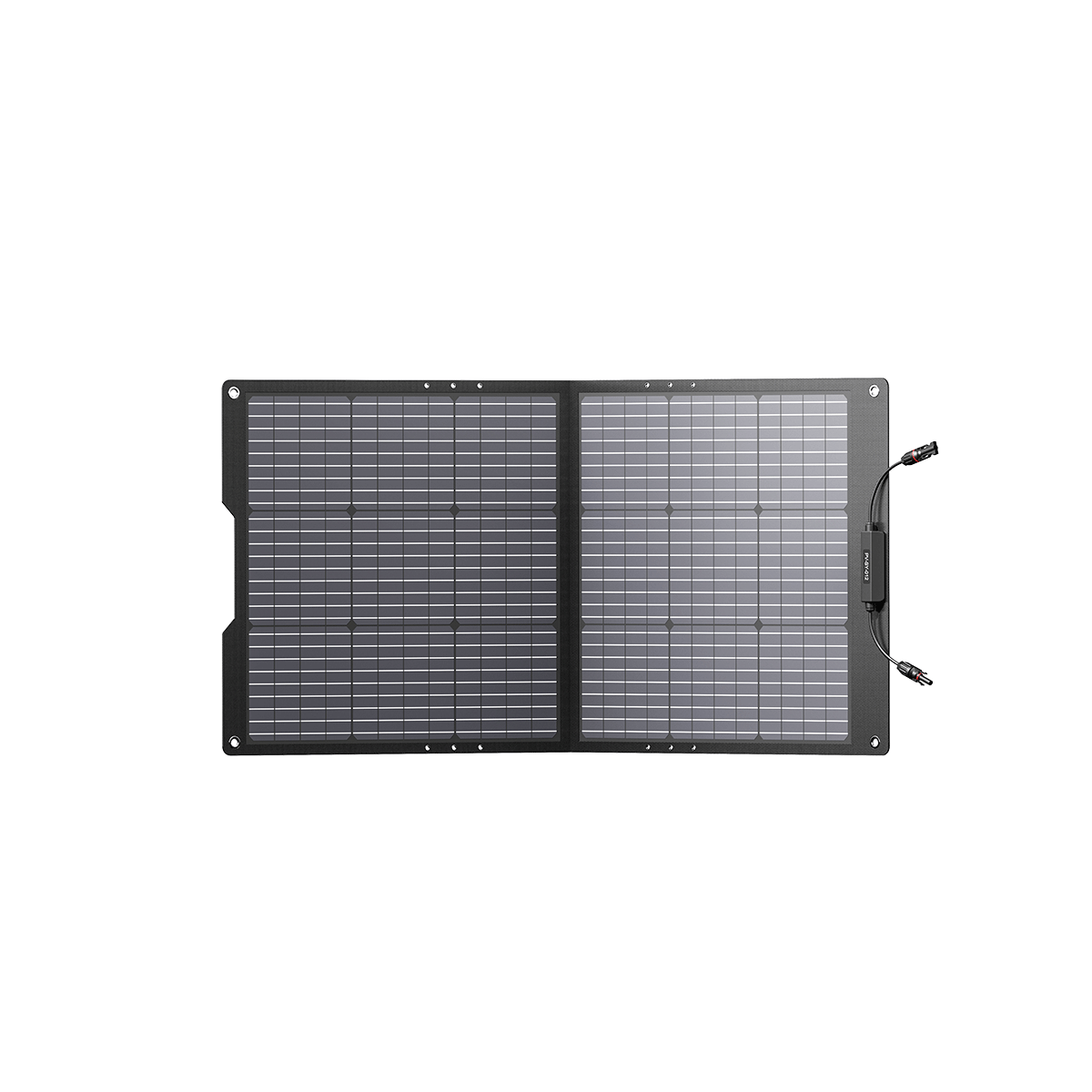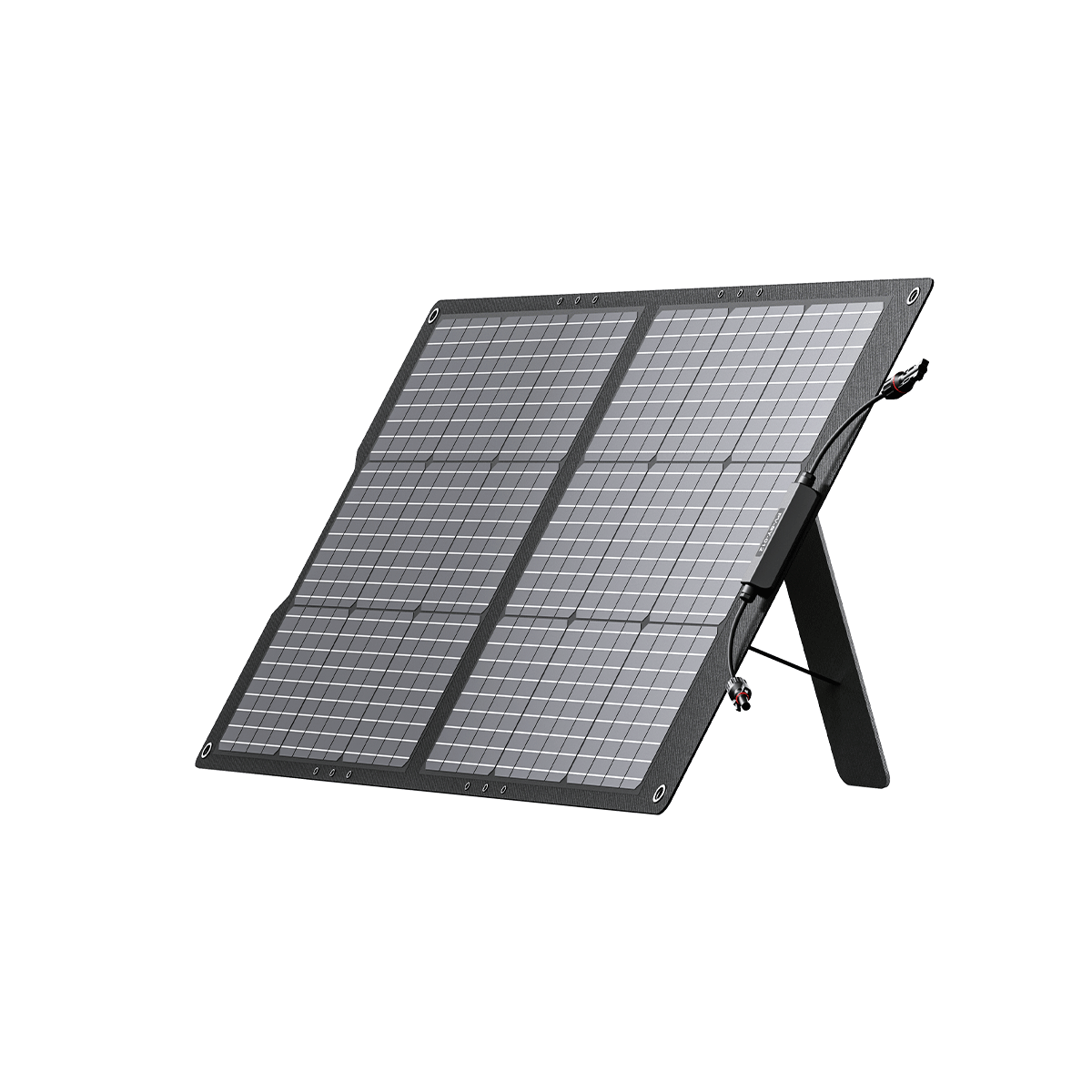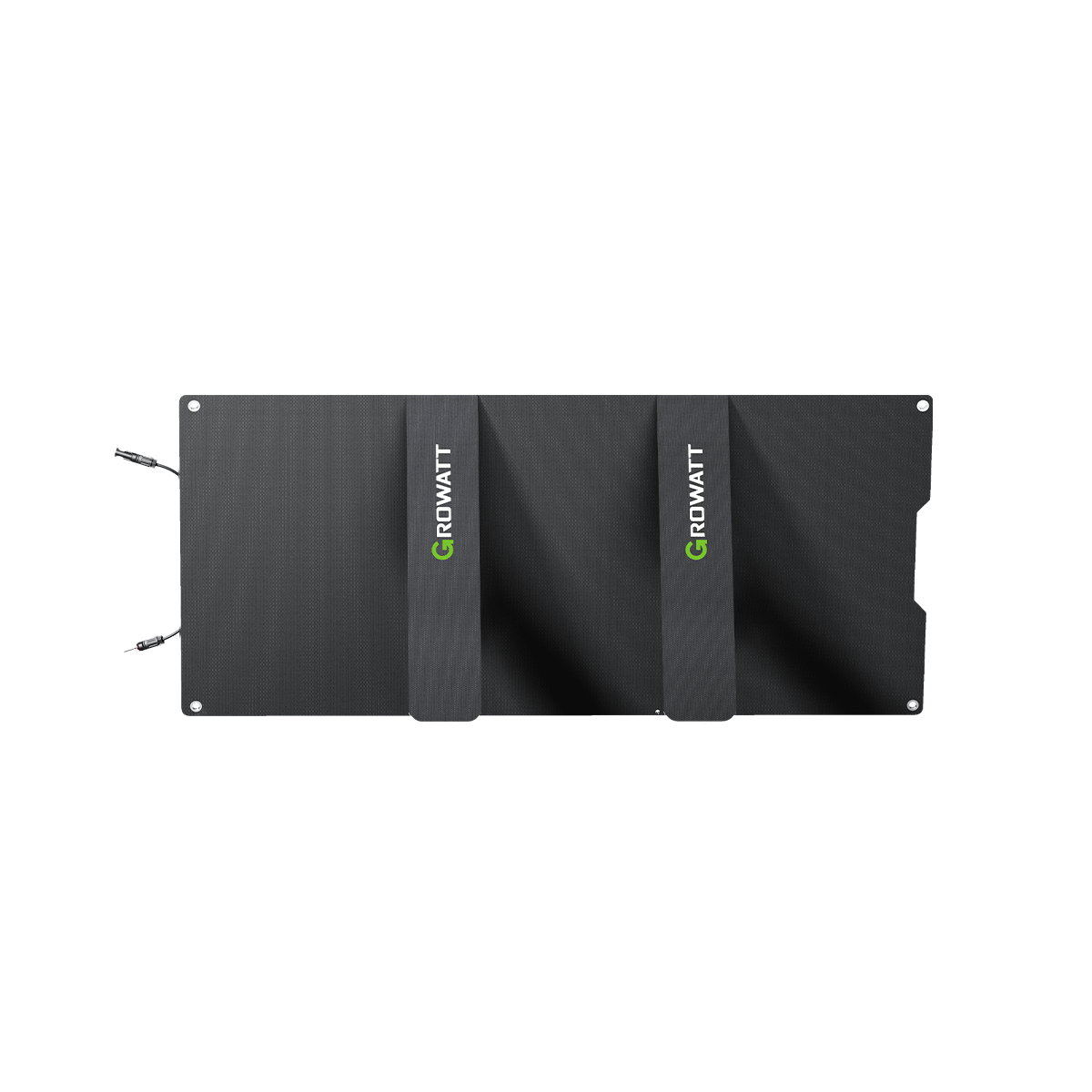 FREE SHIPPING
30-DAYS RETURN
1-YEAR WARRANTY
GLOBAL SUPPORT
Growatt 100W Solar Panel - Sale
$179.00
Sale price
$249.00
-$70
MC4 Connector - Works with most third-party devices 
Lightweight and foldable, easy to carry 
Easy Setup with Kickstand 
22% Conversion Efficiency 
Durable & IP67 Waterproof 
100W Rated Power 
Features
Tech Specs
FAQ
Reviews
Package Content
1*100W Solar Panel
1*Protective Case
1*User Manual
| | |
| --- | --- |
| Rated Power | Cell Type |
| 100W (+/-10W) | Monocrystalline silicon |
| Conversion Efficiency | Connector Type |
| 22% | MC4 |
| Power Current | Open Circuit Voltage |
| 4.96A | 24V (Vmp 22.8V) |
| Short Circuit Current | Dimension (folded) |
| 5.2A (Imp 4.97A) | 603*540*25±5mm (23.7*21.2*1.0±0.2in) |
| Dimensions (unfolded) | Weight (with Case) |
| 1170*540*25±5mm (46*21.2*1.0±0.2in) | Approx 8.16lbs (3.7kg) |
| Net Weight | Output Circuit Voltage |
| Approx 7.94lbs (3.6kg) | 21.16V (Vmp 19.15V) |
Why the solar cannot produce rated power when charging to Growatt power stations?
Solar charging input is affected by factors such as the intensity of the light and the angle of the panel placed on the ground. 100W is an ideal tested result in laboratory. To reach the best solar charging performance, try charging under the full sunlight and make sure there is no shadow cast on the panel.
Is the 100W solar panel waterproof?
Growatt solar panels have a waterproof rating of IP67 which that will protect the product from water splashing and temporary water immersion.
How to clean the solar panel surface?
We recommend using a soft & damp cloth to wipe the surface to remove dust or dirt on the solar module. Please make sure you clean your solar panel regularly to avoid a reduction in charging performance.
Do Growatt 100W solar panels work with third-party products?
Yes, Growatt 100 watts solar panel has an MC4 connector that has excellent compatibility to support third-party devices. As long as the device can connect via an MC4 connector and support the amperage voltage, and wattage that a Growatt solar panel outputs.
Are monocrystalline solar panels better?
Yes! In general, monocrystalline solar panels are more efficient than polycrystalline solar panels and thin-film technology solar panels. Growatt 100W solar panels consist of monocrystalline silicon solar cells.
Perfect for RV !
So I waited to use this solar panel, until I could get to my RV (33ft). I was skeptical at first & hesitant because I wanted it to work so bad but I've never used one! The directions were excellent & it's easy to use, for an ultimate beginner. It was light enough for me to carry, & to carry while climbing, it to place on the top of my RV. Even with kickstands I wanted it discrete, so I laid it on top of the RV. It provided enough power for everything I needed & I do think having more will power my RV even better! This is an excellent buy! It's affordable but will save you money in the long run! I highly recommend this solar panel brand & product!
Nice solar panel
Works great for campers and RVs and smaller solar powered items
Great for camping!
The Growatt 100W Portable Solar Panel is a great choice for those who want a reliable and portable solar panel for outdoor use. It is lightweight and foldable, making it easy to transport and store. The panel also has a high conversion efficiency, so you can be sure that you are getting the most out of the sun's energy. The Growatt 100W Portable Solar Panel is also water and dustproof, so you can use it in any weather conditions.
Nice solar panel
This is a very nice solar panel. Not too heavy and folds up nicely. We got this to take with us camping much bigger and better then the one we have.
Very rugged, very portable; uses common standard connections.
I ordered the 100W panel, alone, to try with the battery charger and inverter I already had. This panel is not cumbersome. It is really easy to pack and bring to camp. I was suprized to see how flexible the outer grommet rim of the panel is. Yet, the panel itself is rigid. It's encapsulated in a fiberglass-like material to keep it flat and waterproof. I think the most practical part is the carrying case though. It slips in and out with ease. And the case also has a rigid side to it, so you don't have to worry about other gear breaking the panel when its packed up. On a cool sunny day around 40⁰F, I was producing 24.2V. When some clouds passed overhead, it was still producing 22V. The battery I was charging was almost full, so only 2amps were flowing when I measured it. But I was able to run a Jigsaw off an inverter as long as I needed with just a tiny 8Ah battery used as a buffer. I used the built in stands, which you can easily adjust to the sun's vertical angle. I discovered that laying the panel flat on the ground was my best option when leaving it unattended, so I didn't have to keep adjusting the direction it was pointed to follow the sun. The next time I leave my car at the airport for long term parking, I'm leaving the panel in the windshield to keep the battery topped off. I hope this was helpful.
Growatt 100W Solar Panel - Sale
100W Portable Solar Panels
Infinity Solar Energy
Power
Anywhere!
22%
High Conversion Efficiency
IP67
Waterproof &Durable
Adjustable Kickstand
The adjustable design of the solar panel allows you to find the best angle for maximum solar power production.
Easy on-the-go
Weighing 7.93 lbs, you can carry the 100W solar panel by a handle for camping, on a road trip, or in your backyard. No bulkier connecting cables, no more heavy panels, and no more hassle!
Stay Powered Anywhere
Embrace the future of renewable energy and unlock the potential of portable solar power. Explore nature, embark on adventures, and power up your life with GROWATT Solar Panels.
Packet List
Products Comparison
General
7kg (15.4lbs)
Total Weight
92 * 21.2 * 1in
Unfolded Dimensions
23.7 * 21.2 * 1in
Folded Dimensions
3.6kg (7.93lbs)
Total Weight
46 * 21.2 * 1in
Unfolded Dimensions
23.7 * 21.2 * 1in
Folded Dimensions
INPUT & Output
21.16V (Vmp 19.15V)
Output Circuit Current
24V (Vmp 22.8V)
Open Circuit Current
9.92A (Imp 9.42A)
Output Circuit Current
21.16V (Vmp 19.15V)
Output Circuit Voltage
24V (Vmp 22.8V)
Open Circuit Voltage
4.96A (Imp 4.71A)
Output Circuit Current