With today's world mostly driven by technology, it can be hard to completely rid ourselves of our reliance on electrically-powered devices, even if it's just for a couple of nights. Whether you want to stay connected to stay on top of your work or require a power source to light up your tent or simply need to keep your phone charged in the event of emergencies, a solar power system can greatly help. Not only are solar panels sustainable and great for the environment, but they're also a popular choice among caravaners and seasoned campers. It is very necessary to choose solar panels for camping.
Let's take a closer look at portable solar panels and why they are much needed for outdoor camping.
How do Portable Solar Panels Work?
These solar panels for camping are composed of photovoltaic cells that are responsible for collecting and converting solar energy into electricity. Each portable solar panel connects together to form a panel, which is then connected to a battery that stores the power generated from the sun.
The panel can then be used to power your devices such as your laptop, phone, or any electrical light source you bring with you.
Solar panels are also relatively lightweight and easy to use, which makes them a great portable power source. Not to mention, solar generators already come with an inverter attached, so there's no need to worry yourself sick over what additional equipment you might need! All you need to do is plug the device into the solar generator, and it'll start charging up like normal.
Benefits of Portable Solar Panels for Camping
Whether you're camping in a tent, an RV, or a caravan, camping with solar power is great for living off the grid. When you make use of the sun's rays to generate power, you not only save on costs but are also taking advantage of a more environmentally friendly power solution! Talk about hitting two birds with one stone.
So, what exactly makes solar panels perfect for camping? Here are a few reasons why solar panels are the way to go:
Cost-Effective
One great thing about solar panels is that once the initial investment and upfront costs are out of the way, they're completely free to use! You'd be enjoying solar energy without having to invest thousands of dollars. No more worrying about electricity bills when you've got your own natural power source.
Only Require Minimal Maintenance
It's incredibly easy to maintain portable solar panels. Since they don't contain any moving parts, all you have to do is wipe them now and then to get rid of dust or dirt clinging to the solar panels. Make sure to look after them regularly if you want to guarantee top-notch performance!
Uses Clean Power
Since solar panels produce solar energy, it's guaranteed to not release any emissions into the planet's atmosphere. This means that you're using clean and sustainable energy to power your electronic devices.
Operates Quietly
Unlike other generators, when solar generators barely make any noise during the day. When used at night, solar generators are made to ensure that no noise is produced. This implies that you and everyone else with you will be able to have a good night's sleep.
Allows More Freedom and Flexibility
Using a portable power system for camping only means that you're not tied down to a location or a specific campsite to rely on its main power source. With portable solar panels, you can camp wherever you want and get the chance to fully enjoy your camping experience. Besides, a portable power station is a reliable, rechargeable, battery-driven power source that can be big enough to power a campsite or even a house, perfect for convenient outdoor escapades.
Requirements of A Basic Solar Panel Setup
If you want to invest in a solar camping kit, there are several things that you need to purchase along with it, so you can properly set it up.
Solar Panel
Your first course of action should be to decide which type of solar panel to go for. There are mainly two types:
Crystalline, which is the most common type of solar panel used. You can choose either the polycrystalline or the monocrystalline models. However, monocrystalline panels have higher efficiency than their polycrystalline counterparts although they do come at a higher cost.
Amorphous silicon or thin-film panels are cheaper and less efficient compared to crystalline models. They also need more space if you want to produce the same amount of energy. However, they are more foldable and flexible which makes them perfect for camping adventures. Thin-film panels also have a higher tolerance for shade and are less affected by higher temperatures.
Battery
Batteries are responsible for storing power that is produced by your solar panels. Fortunately, it's a lot less confusing to choose a battery compared to choosing a type of solar panel.
Experts typically recommend deep-cycle batteries since they can be discharged over and over again without it disrupting their efficiency rating.
Weight should also be considered when choosing which battery to purchase since you'll be traveling and carrying them around. Lithium batteries are usually better compared to lead-acid batteries since they're lighter and thus can be carried around when you're camping, hiking, and backpacking.
You also need to be realistic about the wattage you require from your batteries. Make sure you don't go under or over your estimated amount!
Inverter
An inverter is required in order to convert the direct current or DC power into alternating current or AC power that charges all your devices. Choose the one that can power your devices to a level that's acceptable.
Solar Regulator
A solar regulator is useful for preventing your battery from overcharging. It regulates the current that flows from the solar panel into the batteries and makes sure the battery doesn't end up storing more power than it can handle.
Well, a solar generator covers all the above, which stores power generated by solar panels (or another source) and produces that power on demand through integrated ports and outlets.
Picking the Right Portable Solar Panel for Camping
Once you've decided to go camping with solar power, here are a few questions you should ask yourself when choosing the right portable solar panel:
What's My Budget?
Just like with any other purchase, your budget should always be your first consideration. The upfront costs of solar panels often range from around a hundred dollars or less. You need to know how much you're willing to spend before searching for portable solar panels. It's easier to narrow your choices and pick the perfect portable solar panel once you have settled on a budget.
How Much Power do I Need?
Think about how long you'll be spending outdoors. When you're out camping, do you only plan to charge a few small devices, or are you bringing along a few appliances that need a lot of juice to run? You need to calculate the estimated wattage of all the devices you plan to use and pick a portable solar panel that can handle that load.
What Solar Panel Size do I Need?
There are different sizes of portable solar panels. Since you're bringing your portable solar panels for camping, choose a size that would make it a lot easier to carry around. There are several small portable solar panels that are still able to give you the amount of power that you would need.
However, if you don't plan on moving around too much during your outdoor trip, you can opt for a slightly larger portable solar panel that can give you even more power. It all comes down to your circumstances and what you actually need.
Growatt Portable Solar Panels for Camping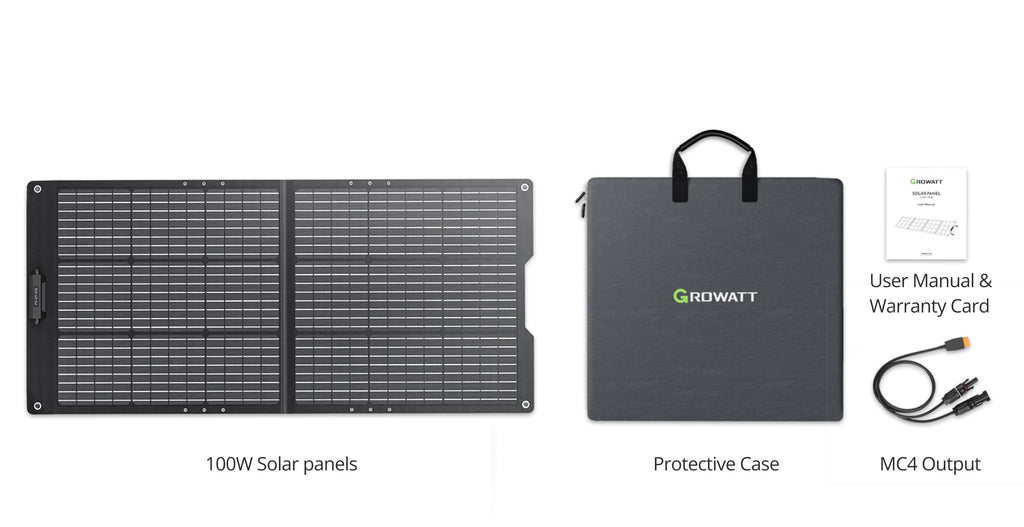 Great Portability –

 

Lightweight and foldable, easy to carry with portable protective case.
Easy Setup with Kickstand –

 

Sturdy stand for easy solar charging setup outdoors.
22% Conversion Efficiency –

 

High solar conversion efficiency helps you capture more sun and charge faster.
Durable & IP67 Waterproof -

 

EFTE coating and IP67 water resistance rating make the panel more durable.
MC4 Connector -

 

Work with most third-party devices.
100W Rated Power -

 

Up to 100W solar charging input allows you to easily charge devices anywhere.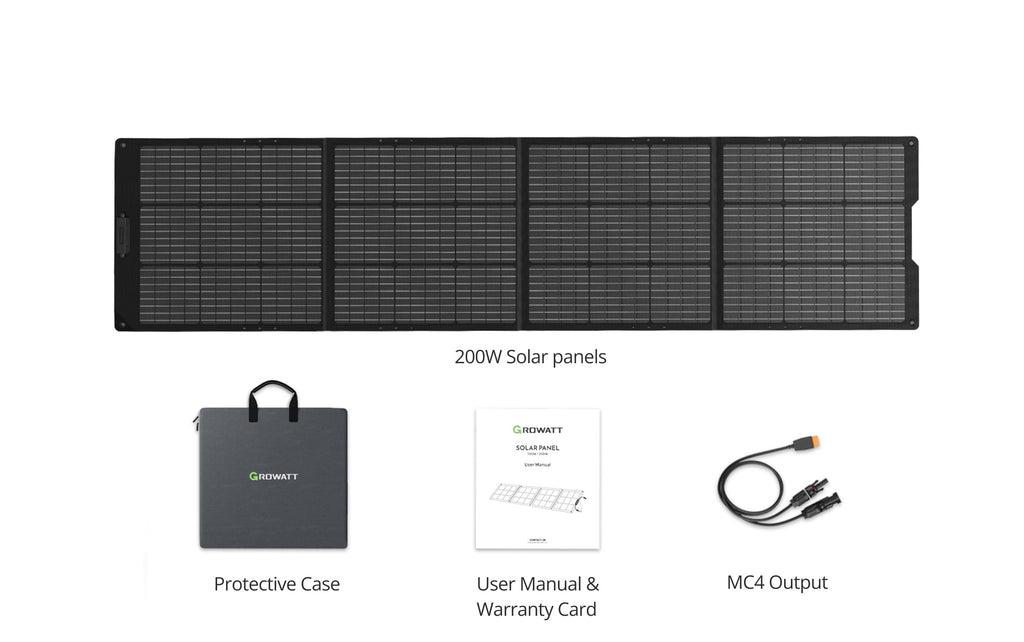 Great Portability – Lightweight and foldable, easy to carry with portable protective case.
Easy Setup with Kickstand – Sturdy stand for an easy solar charging setup outdoors.
22% Conversion Efficiency – High solar conversion efficiency help you capture more sun and charge faster.
Durable & IP67 Waterproof - ETFE coating and IP67 water resistance rating make the panel more durable.
MC4 Connector - Works with most third-party devices.
200W Rated Power - U4 x Growatt 200W solar panels allow you to quickly finish charging in 2.5 hours.
Final Words
So, why exactly are portable solar panels needed for outdoor camping? It can seem like a luxury especially if you only plan to spend one night outdoors. However, it still has the advantages that make it worth bringing along, even if it's just for a night.
For instance, it's a great source of clean energy. It also comes at a really cheap investment price and with no additional costs after purchase. Portable solar panels also lack the annoying hum that gas-powered generators make. Not to mention, they're typically very lightweight and comparably smaller than regular solar panels, which makes them perfect for camping.
When you bring a portable solar panel along, you can still stay connected to the real world and not have to worry about being stuck in the dark during your outdoor trip. It's especially useful for outdoor trips that last more than a night and are set in a place that gets a lot of sunshine.
It's not advisable to completely rely on portable solar panels for your survival in the great outdoors. However, they still do a great job of adding a touch of home comfort to your camping trip and outdoor adventures.