There's nothing like a good movie on the big screen, surrounded by friends and family. But your movie-going experience can be ruined by other people who think it's fun to yell at the movie or talk the whole time. So instead of dealing with people in public, why not DIY your own outdoor movie night setup in your backyard?
While backyard movie nights sound like plenty of fun on paper, they can be a complete mess if you don't take the time to set things up. This quick guide will tell you everything that you need to know to transform your backyard into the perfect outdoor movie night setup.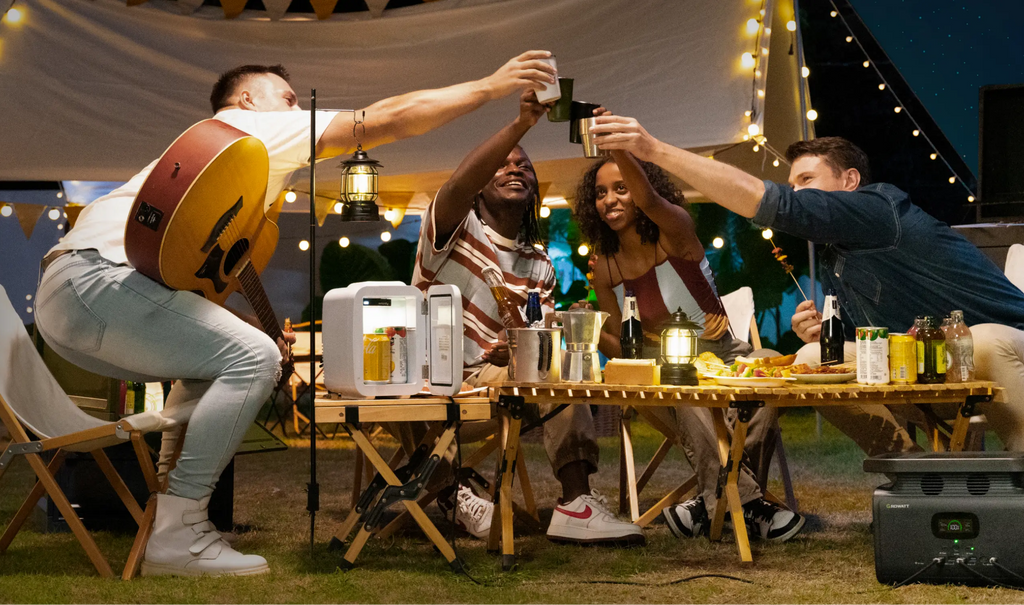 Choosing the Location
Start off by considering where you're going to host your intimate little movie night. Your backyard movie setup should be close enough for everyone to see but not too close to leave a crick in their neck. Here are two important things that you should consider:
The Size of Your Audience
You should also consider how many people are attending your backyard movie night. If it's just you and your immediate family, space won't be as big an issue. But if you're inviting friends, then you need to adjust the seating arrangements so that everyone can get a  comfortable view of the screen.
Access to Power
You should also check if you have access to a power supply to connect the projector, speakers, and even your decorative lights. If power sockets in your yard are a no-go, then consider getting a portable power station, which can connect all of your equipment.
Acquiring the Necessary Equipment
After deciding on the guest list and location, it's time to gather the things you need for your movie night. Here's a simple checklist that you can keep on hand to remember:
Projector Selection
First, you need a projector. Remember, outdoor projectors are different from indoor ones and can be a little on the pricier side, but can be great for your outdoor movie night setup. Some also come with built-in speakers, but it doesn't quite compare to a good speaker setup that you might already have.  Consider things like its size, picture quality, throw distance, and color sharpness. It is also worth remembering that budget projectors can work well at night.  
Screen Options  
Next up is your screen. A good projector screen can give a more accurate image and is less likely to sway. You could even use a pure white sheet as your screen if you have a tight budget. Just make sure to tie it tight or stick two 2x4s behind the sheet in the shape of an "x" to keep it from swaying. Fixed projector screens are obviously the best, but they can be clunky to manage. There are portable ones, too, and they can sway from the wind a lot more and take time to set up. The only real benefit is the fact that you can pack it up and put it away when the backyard movie night is over.
Audio Equipment  
If you don't have speakers at home, then you should consider getting new ones for your movie night. While Bluetooth options can be a lot more convenient, they can also be expensive. Wired speakers, while difficult to manage because of their wires, are very reliable and don't struggle with interference outdoors. Leave the main speaker out front and scatter the other subwoofers surrounding the sitting area for the best outdoor movie setup.
Snacks
Possibly the most important thing that you need to consider is the snacks. A good movie-watching experience is never complete without good snacks, and you can go down separate routes. You could bring out the store-bought snacks and popcorn, or you could make sliders and other party snacks at home. Preferably, you want a mix of both, with plenty of chips, sliders, sandwiches, drinks, and, of course, popcorn.
Portable power station
If your backyard doesn't have access to any reliable power sources, then you will also need to invest in a portable power station. It should have a large enough capacity to reliably run the projector, speakers, and speakers throughout the duration of the movie. And if you're in the market for one, why not consider the Growatt INFINITY 1500 portable power station?
Multiple Power Sockets
It features 12 separate outlets to connect a variety of appliances, with a total capacity of 1512Wh. For reference, that means you can easily run a 300W projector and accompanying speaker systems for over 4 hours.
Remote Control via the
 App
You can also use the myGro app to easily monitor and control your device. The app is available on both Android and iOS and gives detailed information about the real-time status.  
Setting up Your Projector System
Now that you have everything that you need for your movie night, it's time to set everything up. Here is a quick checklist that you need to consider or set up before the guests arrive.
First things first, you need to put your projector in the right spot. Everyone there should have a comfortable view of the screen without having to sit in uncomfortable positions.
Positioning the projector
You want to find the right spot for your projector so that it doesn't come in the way, without affecting the image it outs out. If you have a higher-end model, you can place your projector wherever you want and it will calibrate the screen tilt and size automatically.  
Mounting or setting up the screen
Next, place your screen just far enough from the projector for the image to fit. You also want to keep your screen off a grassy lawn or an uneven surface unless you want your guests peeved by the slight tilt.
Connecting audio and video sources
Moving on, connect the speaker and projector to your laptop or phone to start the movie. A quick tip: test out the sound and video before your guests come to see if there are any problems.
Testing and adjusting the image
Finally, you just need to get the finishing touches like the brightness, tilt, and saturation of your projector to fit the mood of the backyard movie night.
Creating Comfortable Seating
With the actual projector set up, you need to give your guests a comfy place to sit. Lay down beach towels, pillows, throws, and even yoga mats to let your guests sit however they want and still enjoy the movie. Remember, you don't want people to have a bad viewing angle of the screen or be too close to the speakers to feel uncomfortable.
Setting the Ambiance
Now we get to the fun part, setting the mood. You can decorate your backyard with fairy lights and other types of ambient lighting to build that spooky or comfy atmosphere in your backyard movie setup. But even if you do decide to keep your backyard dark during the movie night, make sure you illuminate the pathway and the exits so that people can get around with ease.
Prepare your Refreshments
Don't forget the snacks! You can set up a snack bar away from the movie so that visitors can choose what they like. If you have friends with gluten, dairy, and vegan preferences, make sure to have some around to make them feel more welcome.  
Technical Considerations
Testing audio and video quality
You also want to test out the audio and video of your movie before you start the film. Check for any possible audio delay, or video stuttering issues when playing the film. Make sure you iron these issues out before your guests come.
Have Backup equipment ready
Consider also having a backup set of speakers or projector screen available in case yours runs into issues. You don't have to buy a second screen or get new speakers, but could instead borrow these things from a friend.
Take Weather-Related Precautions
Finally, make sure you take the right weather precautions for your movie night to avoid damaging your equipment. Make sure you check the weather forecast before setting things up and try to keep a waterproof tarp on hand to quickly cover all of your equipment.
Starting the Movie Night
After you've made all of these preparations, you're ready to start your movie night. Make your guests feel welcomed and set the right expectations by leading them to their seating arrangements. You should also be punctual and start the movie at the right time since you don't want to leave your guests who have already arrived waiting. Try staying on your toes throughout the movie in case there are some technical issues that you need to fix.
After the Movie
Once the movie is over, you want to meet up with your friends and family to get their feedback on the day. What did they think of the movie? Did they like the ambiance? What did they think of the snacks? This is also where you will generally socialize with your guests before you see them out. Next, you want to pick up all of your equipment and store it in its relevant bags and coverings. Your equipment and the advice that your guests give you after the movie night can help you make your next backyard movie even better.
Conclusion
And with that, you're ready for a fantastic movie night. Your choice of projector, screen, snacks, and even portable power station will all pay off as you and your loved ones watch a movie under the stars. Consider if your seating arrangement offers comfortable sightlines for your friends and family and make sure everyone has a blanket to share. Finally, just try to enjoy your time with your family and try not to worry if "things are going okay." Remember, it's all about spending time with the people you love, so let loose and have some fun.