More and more people are diving into the tiny house trend because it's now more expensive than ever to acquire and maintain a traditional home. People are finding more means to focus on lifestyle and experience instead of glory and things. Tiny house enthusiasts are looking to hack the system by going for an off-grid tiny house wherein they won't need to pay for utility bills and spend thousands of dollars every year.
If you want to join the movement, you need to learn the ropes of off-grid tiny house living.
What You Need to Know About Off-Grid Tiny House Living
Running a typical house produces a significant carbon footprint, and utilities can be costly. Off grid tiny houses are not only environmentally friendly, but also incredibly cost-effective.
What is an Off-Grid Tiny House?
Off-grid tiny houses are not connected to the traditional water supply, power grid, or sewage system. They are designed to be self-sustaining and self-sufficient. All you need to do is rely on renewable energy sources like solar. You can also use hydro or wind power. Rainwater harvesting or well water are typical water sources.
Related: How to Live off the Grid?
Benefits of Off-Grid Living in Tiny Houses
While you may not be aware of it, living in a tiny house and being off the grid has several advantages. While each homeowner will have a unique experience, here are some of the typical perks of choosing this lifestyle.
Sustainability
Using renewable energy sources means you can have sustainable energy supplies for your home. No more worries when the rest of the city experiences an outage.
Cost Savings
Renewable energy sources also make more sense economically. Yes, the initial costs aren't quite cheap. But, thankfully, you can save over $25,000 before you need to replace them.
Independence
Because you can get sustainability and cost savings at the same time, you become a self-reliant homeowner. Thus, you can stop worrying about changes in energy prices and you can put the cost savings to better use.
How to Plan and Design Your Off-Grid Tiny House
Shifting to an off grid tiny house requires a lot of planning. Here is a step-by-step guide to planning and designing one.
Choosing the Right Location for Your Off-Grid Tiny House
Because you want it to be off-grid, you won't be relying on public sources of water and electricity anymore. However, you still need to make sure that the chosen location is in a residential zone.
Optimizing Your Tiny House's Size and Layout
You can then start making a layout for your home. Make sure to consider the size of each room, and there should be enough space to support your lifestyle.
Choosing Between Traditional and Solar Power
The next thing you should consider is your power source. This starts with calculating how much electricity you need and knowing the options available to meet your energy requirements.
Off-Grid Water Supply and Sustainable Water Sourcing
Since your goal is to live a more sustainable lifestyle, the ideal option is to harvest rainwater or secure a water well.
Sustainable Materials and Construction
Since you're going for eco-friendly, the materials you'll use for building your tiny house should be as sustainable as possible. You can consider using recycled materials, resource-friendly products, and materials that are locally sourced.
How to Power Your Off-Grid Tiny House?
As previously mentioned, you should take into account how you will supply energy to your home and how much electricity you need to run it. To show you what options you have, here are a number of possible alternatives to supporting your off the grid tiny house.
Solar Power Systems
Solar power is the most popular renewable power source used by many homeowners. The installation procedure has become easier (and more affordable too), which is why its popularity has gone to the moon over the past few years.
Solar Panels: Capturing Sunlight
Solar panels convert sunlight into electricity. When the solar panel captures sunlight, the solar energy is absorbed by the panel's PV cells. This produces electrical charges that cause the electricity to flow.
Inverter: DC to AC
The next step is done by the inverter. This step is necessary because solar panels produce DC energy while your home runs in AC. Thus, an inversion process is needed.
Batteries: Storing Solar Energy
You need to have electricity 24/7, don't you? Thus, you need to find a way to store the energy, and, in this case, installing a battery pack is your best option.
Charge Controllers: Maximizing Efficiency
Charge controllers are not really required in a solar power system. But, if your goal is to optimize your energy use the best way you can, then you'll need this component.
Growatt Solar Generator
When it comes to how to power a tiny house off-grid, this one is another great alternative to consider. It offers all-in-one renewable energy solutions for home usage.
Growatt INFINITY 1500
With a 2000W output and a 1512Wh capacity, this one can be a great way to power your tiny house. It also comes with a 2-year warranty to give you peace of mind.
Wind Power Systems
Wind energy can also power your tiny house. A wind turbine can convert wind power into electricity. Wind turbines are usually installed on tall poles or towers to capture the maximum amount of wind. Wind energy is a clean and abundant energy source, perfect for those near the mountain or ocean.
Gas Generator
Gas generators are another option, but in terms of noise and fuel expense, it's probably the least ideal.
Hybrid Systems and Combining Renewable Energy Sources
No one should ever stop you from combining different renewable energy sources. When it comes to how to run an off-grid tiny house, integrating wind and solar is the better option.
Water and Waste Management
To become fully off-grid, you should also take care of water and waste management. The following are some good options:
Rainwater Harvesting
Collecting rainwater is the easiest way to meet your water needs. It typically involves harvesting water from a roof as the rain collects in the gutters and gets channeled into a storage vessel.
Composting Toilets
Composting toilets are more compact and take up less space than regular toilets, which is pretty handy in a tiny house setup. The system involves turning human waste into nutrient-rich compost. There are a lot of models of composting toilets you can choose from. Make sure to find one that matches you and your family's needs and preferences.
Greywater Systems and Recycling Wastewater
With a greywater processing system, you can use the water from your bathroom and sink to flush the toilet. Also, it minimizes the chance of water pollution.
Sustainable Water Usage and Conserving a Precious Resource
To achieve maximum water efficiency in your tiny house, you must recognize any habits that use up water. Some tiny houses have water recycling systems installed so that water used for daily activities can be used for different purposes.
Off-Grid Heating and Cooling
Split heat pumps are a great option for heating and cooling a tiny house because of their energy-efficient construction as well as compact design. Another possibility is radiant floor heating, which makes use of water pipes fitted underneath the flooring.
Wood Stoves and Pellet Stoves
Wood stoves provide an amazing amount of consistent heat at a low cost. Typically, a 40,000 btu wood stove is recommended to heat a 1,000-square-foot home.
Maintaining Temperature Control via Insulation and Ventilation
The secret to creating a comfortable tiny house is adequate insulation. If you're looking for an eco-friendly insulation option for your tiny house, glass wool is a good choice.
Off-Grid Appliances and Technology
When choosing your appliances, it's important that they don't take up too much space. And it's an extra plus if they're relatively easy to carry around!
Energy-Efficient Appliances
Choosing appliances that have multiple uses is a clever move if you're trying to live in a tiny house where space and energy conservation are of utmost importance. For instance, you should get a multipurpose oven if you don't have room for a stovetop.
Off-Grid Cooking and Kitchen Solutions
In addition to a multi-function oven, you should also have more sustainable kitchen appliances in your tiny house. A workstation sink is a must because it allows you to chop up ingredients and wash them at the same location.
Internet and Communication Options
Assuming you don't live in a remote area without cell service, you can use wireless broadband. It eliminates the requirement for any kind of fixed-line connection. Another option for connecting to a network without using your phone is through pocket broadband modems.
How Much Does It Cost to Build a Tiny House Off the Grid?
The costs of a tiny house can vary greatly based on lots of factors. Some DIY enthusiasts have spent as little as $8,000 to make a tiny house, but one typically costs at least $30,000. On the other hand, the off-grid solar energy will cost around $20,000.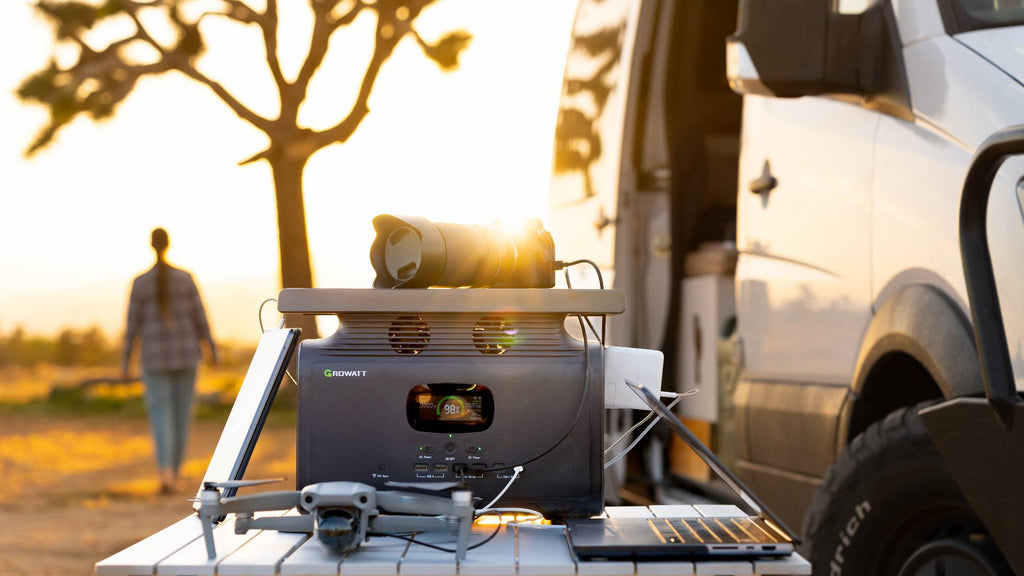 Conclusion
What are your thoughts on creating an off-grid tiny house? Do you find this to be the right decision for a homeowner? What are your favorite tiny living hacks?
You can live off the grid if you are concerned about the environment and want to lead as sustainable a life as possible. It will free you from potential risks like power outages and water pollution in addition to making your house more eco-friendly.
Additional Resources and Further Reading: Where to Learn More
That's all there is to building, owning, and caring for a small off-grid house! If you need more resources, we have a lot of articles about the topic, whether it is about solar power, renewable energy sources, or sustainable living practices.