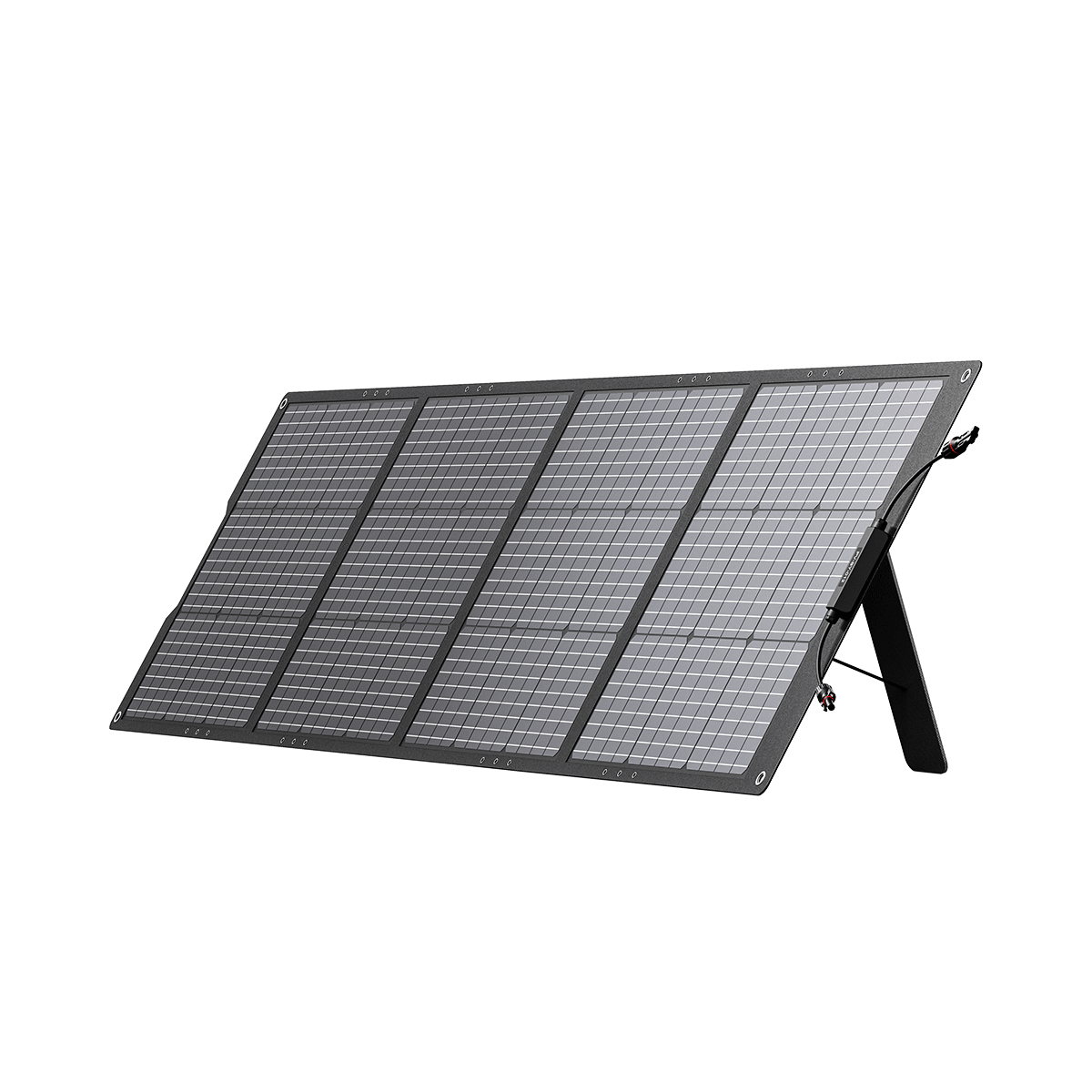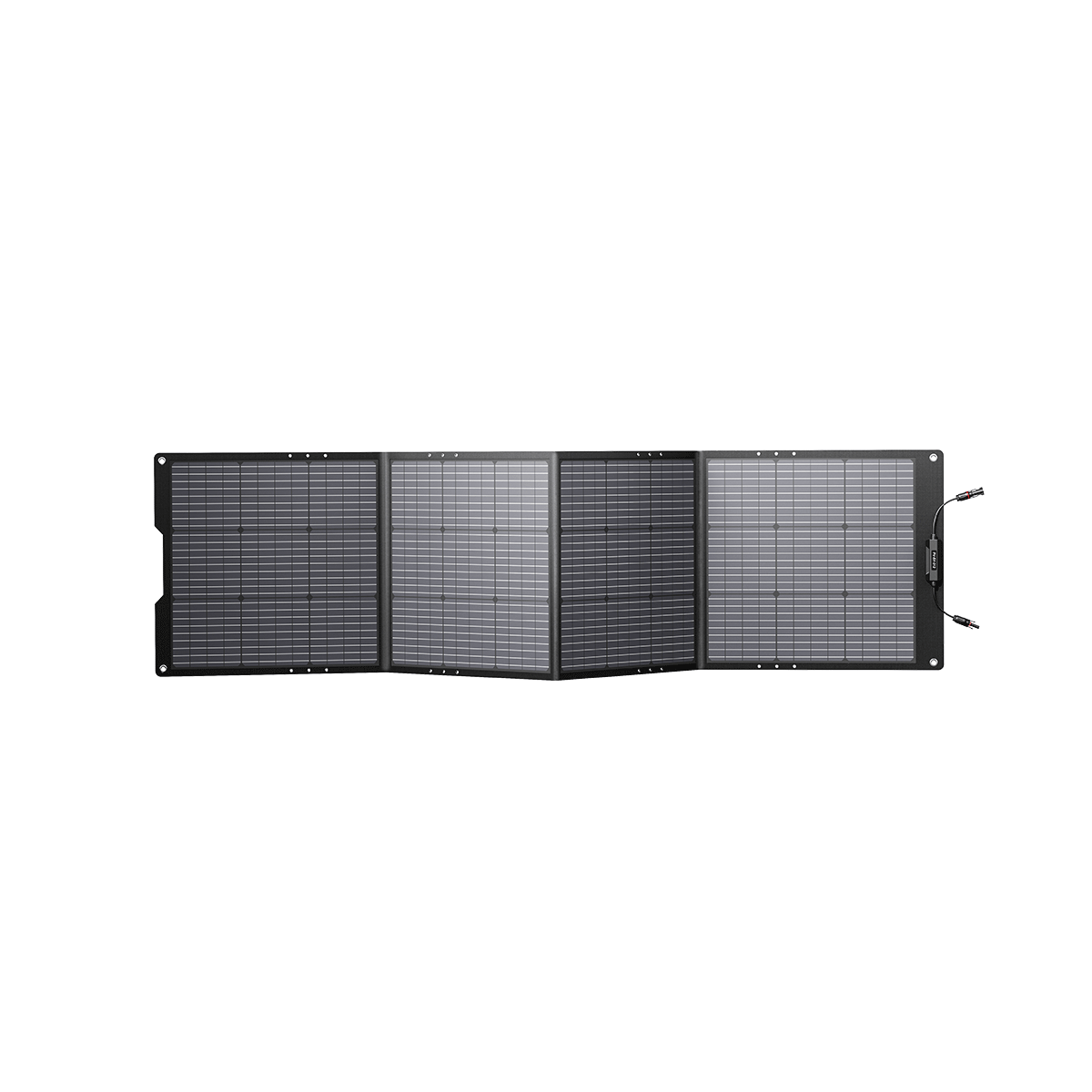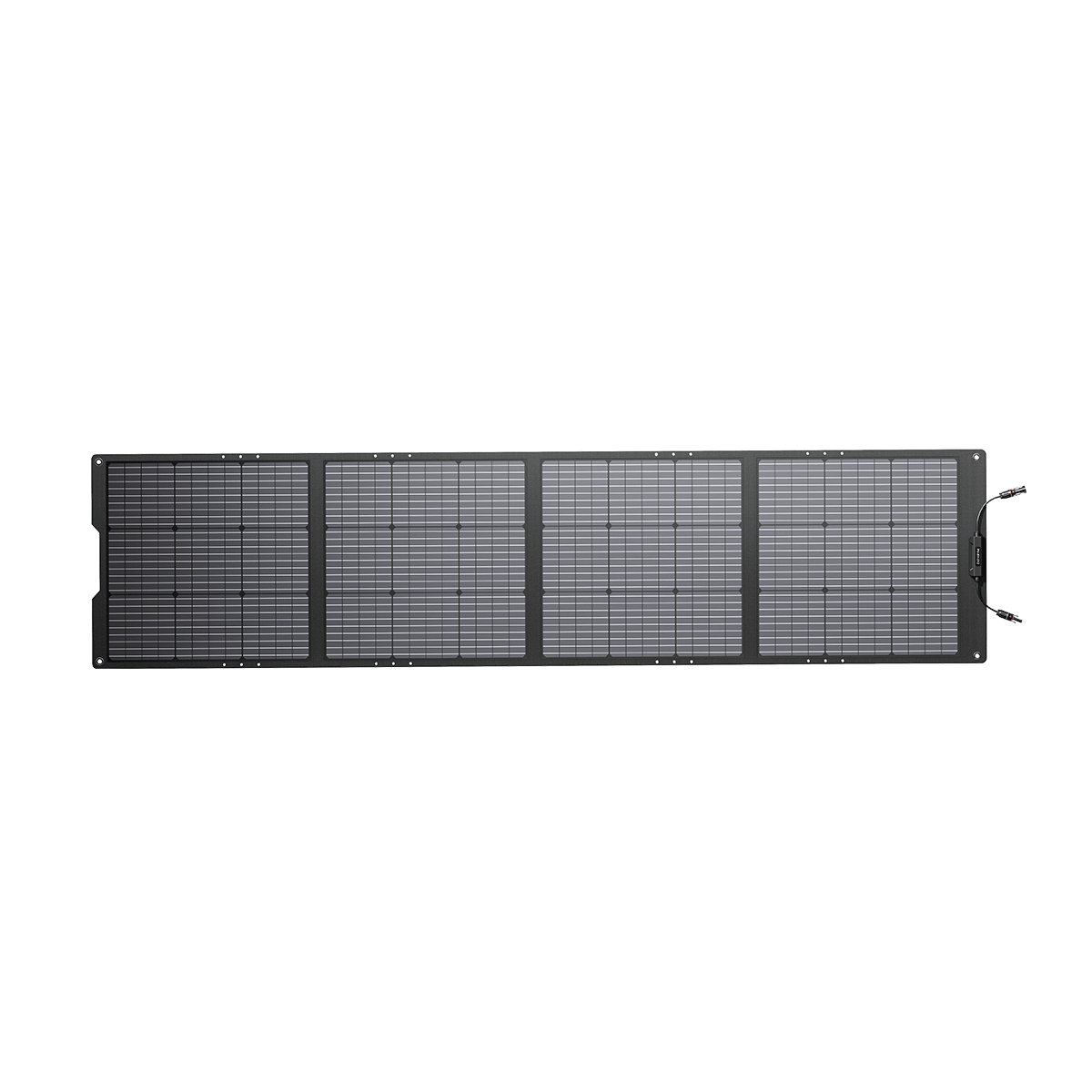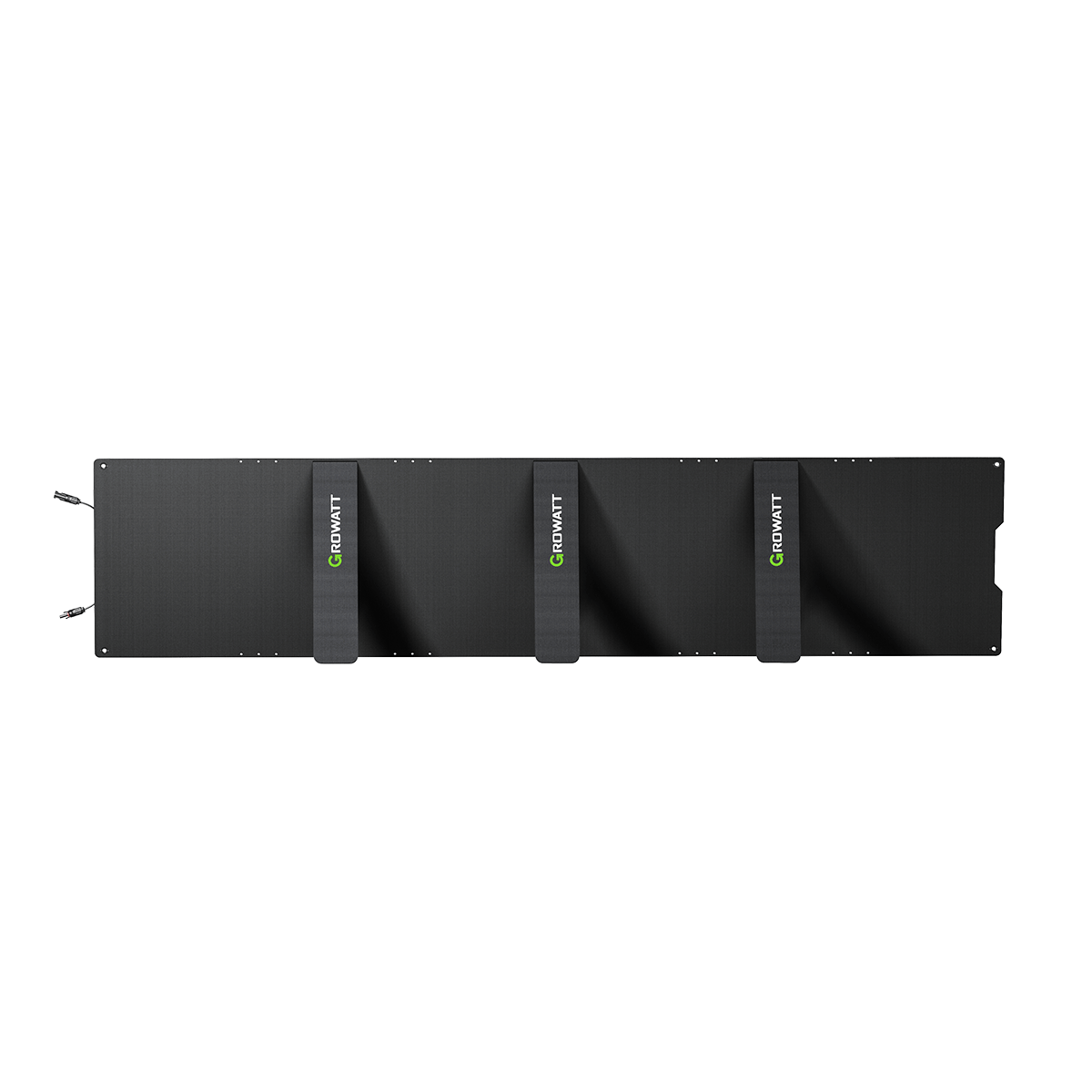 FREE SHIPPING
30-DAYS RETURN
1-YEAR WARRANTY
GLOBAL SUPPORT
Growatt 200W Solar Panel
$279.00
Sale price
$449.00
-$170
MC4 Connector - Works with most third-party devices 
Lightweight and foldable, easy to carry 
Easy Setup with Kickstand 
22% Conversion Efficiency 
Durable & IP67 Waterproof 
200W Rated Power 
Features
Tech Specs
FAQ
Reviews
Package Content
1*200W Solar Panel
1*Protective Case
1*User Manual
| | |
| --- | --- |
| Rated Power | Cell Type |
| 200W (+/-10W) | Monocrystalline silicon |
| Conversion Efficiency | Connector Type |
| 22% | MC4 |
| Power Current | Open Circuit Voltage |
| 9.92A | 24V (Vmp 22.8V) |
| Short Circuit Current | Dimension (folded) |
| 10.46A (Imp 9.93A) | 603*540*25±5mm (23.7*21.2*1.0±0.2in) |
| Dimensions (unfolded) | Weight (with Case) |
| 2270*540*25±5mm (92*21.2*1.0±0.2in) | Approx 15.65lbs (7.1kg) |
| Net Weight | Output Circuit Voltage |
| Approx 15.43lbs (7kg) | 21.16V (Vmp 19.15V) |
Why can't the solar produce rated power when charging to portable power stations?
Solar charging input is affected by factors such as the intensity of the light and the angle of the panel placed on the ground. 200W is an ideal tested result in laboratory. To reach the best solar charging performance, try charging under the full sunlight and make sure there is no shadow cast on the panel.
Is the solar panel waterproof?
Growatt 200 Watt portable solar panels have a waterproof rating of IP67 which will protect the product from water splashing and temporary water immersion. But don't soak it in water directly or put it in the rain.

How to clean the solar panel surface?
We recommend using a soft & damp cloth to wipe the surface to remove dust or dirt on the solar module. Please make sure you clean your solar panel regularly to avoid a reduction in charging performance.
Do Growatt 200W solar panels work with third-party products?
Yes, Growatt 200W portable solar panel has an MC4 connector that has excellent compatibility to support third-party devices. As long as the device can connect via an MC4 connector and support the amperage, voltage, and wattage that a Growatt solar panel outputs.
How Many Types of 200W solar panels?
According to the material, it can be divided into four types: monocrystalline, polycrystalline, PERC, and thin-film panels, among which monocrystalline solar panle is the most popular and the best, and Growatt 200 watt portable solar panel is made of monocrystalline.
If classified by appearance, they include: portable 200-watt solar panels, flexible 200-watt solar panels, and fixed 200-watt solar panels.
What can I run with 200-watt solar panel?
You can use the 200W solar panel to charge a battery, battery pack, or portable power station to power your small appliances. Examples include laptops, tablets, mobile phones, coffee makers, LED lights, and microwave ovens.
Works as intended!
My application is for a EF Delta 2. Box arrived undamaged, easy setup. Providing its real-world wattage with full sun.
Location is Indiana at 6PM in July facing east.
Pros:
Easy setup, plug and play, no gimmicky on board phone charger, just a panel with MC4 leads.
Good build quality.
Outputs reasonable-accurate real-world power levels.
Possible Con(s):
-(Long) I feel like I may break it trying to unfold it?. It's a 'rigid' material, which is good, but it does making slight crackling sounds if you put enough pressure when trying to set it up. Like holding it and leaning the panel back to setup legs, I had to press to hold it and with thumbs on front, sort-of like a bending direction to keep it from falling forward. I made sure to hold the very edge, avoiding the actual solar cells. I THINK it's just the material used and it will be okay.
- It's heavier than I expected, but if it's durable, that's fine.
Conlusion:
First day I'm happy with my purchase. It was a little higher on my ideal budget for a portable panel, but better value for 200w vs $450 for ecoflow 160w.
Soaks up the sun
I purchased this to charge my portable electric generator. My power had dropped below 50% so I set it up in my driveway to charge with in a matter of hours I was back to 100% charged. I'm looking at purchasing a larger capacity generator to power additional appliances in my home as well as my campsite.
Underwhelming
Build quality is great and should last a long time. However, I'm only getting around 60% efficiency out of the panel. Definitely expected better, thus only narrowly 4 stars.
Excellent Powerstation!
I'm building out my 2023 Ford Transit and needed the latest technology at a great price. Well the 1300 hit it out of the park! Small footprint, all the best features, Light and powerful. Really happy with my purchase and it's already running off solar inside my van. It can keep topped off with 200 watts of solar running my new Dometic fridge 24/7. Great system.
Panel itself has no handle. The sharp ETFE/oxford cloth laminate can cut.
Upgraded to 4 stars. Right after publishing the original review, we had a nice sunny day that allowed for comparing the Growatt to a more efficient panel (for its active solar area based on STC standard test conditions) mentioned in the review . The Growatt pushed out 145 watts where the "more efficient" panel was producing only 122 watts under the same conditions. The difference seemed to be related to the temperature of the solar cells. The Growatt was running 10 to 15 degrees cooler in all 4 panels compared to the competitive panel. I don't know why that would be.
STC pegs the temperature of the panel under test at 77F (25C) and the panel temps today varied between 115 degrees to 122 in any of the 4 panels in the Growatt. The "more efficient" panel was running 10 to 15 degrees above that. Can't be sure that was the reason, but the watts being produced tells the story.
So there you have it. Panel specs based on STC should be taken with a grain of salt maybe? What matters is what happens in the real operating conditions and makes these comparisons important. In spite of some of the negatives mentioned about the Growatt, I think this power difference is worth the upgrade.
========================================================================
Lick your fingers for grip, no grab handle when the panel is out of the case.
Wide and sturdy kickstands, ETFE construction with oxford fabric backing with no handles on the panel (only handles on carrying case). Panel edges are sharp and with the oxford cloth backing can work like a saw against skin. Cut skin on a knuckle which was kind of a nuisance because it bugged me for a few days. I have 2 other 200w foldables and never ran across that because the panels have integrated handles.
MC4 connectivity only. Wires are tie wrapped so that they don't dangle loosely. I liked that idea and will leave them that way.
The carrying case is a curious item. it has no pocket our pouch for extra adapters. One side of the case has a rigid reinforcement while the other side flops loosely, so it will stand up with no panel in it. The panel seems heavy and is a little cumbersome to handle out of its pouch. Set up it is sturdy, but with only 3 kickstands for 4 panels, but looks like something is "missing"!
For its active solar area, its power output is slightly lower than 2 other brands of this type of foldable panel based on manufacturer's Volts @ Pmax and Amps @@ Pmax. Keep in mind that power is measured under standard test conditions (STC) and the power produced is what is spec'd. The other 2 panels produced 199.98 and 198 watts with the Growatt 200 coming in at 189.62.
Power figures in watts per sq in of active solar area are 0.125, .122 and .118 (Growatt 200), with a total active area in sq inches of 1594.91, 1624.42 and 1609.88 (Growatt). So the Growatt 200 produced less power per sq in and is slightly less efficient. An after the fact review of efficiency ratings showed the Growatt has an asserted efficiency rate of 22%. Of the other 2, one claims 23.5% and the other 23%). Interestingly again, the 1594.9 (smallest active area) produced more power per sq in. If you guessed that's the one at 23.5% efficiency, you'd be right.
Didn't have chance to do a comparison under good solar conditions. The STCs tell the story for now.
On the plus side
--the MC4 that are stowed and an easy connection.
--solid ETFE construction with oxford fabric backing
--protected zipper
--easy MC4 release/disconnect compared to typical barbed connectors.
--Magnetically secured kickstands provide easy release compared to velcro
On the down side,
--no other included connectivity (but that's no surprise as listing mentions ONLY MC4)
--sharp edges can cut with saw like action linked to
--only the carrying case with a grip.
--carrying case has no pouch or pockets for extra cables/manual
--less efficient
In summary, less efficiency, at $349 a higher price, harder to handle with sharp edges, this one is teetering on the border between a high 3 or low 4. More to follow after comparison testing under better solar conditions.
200W Portable Solar Panels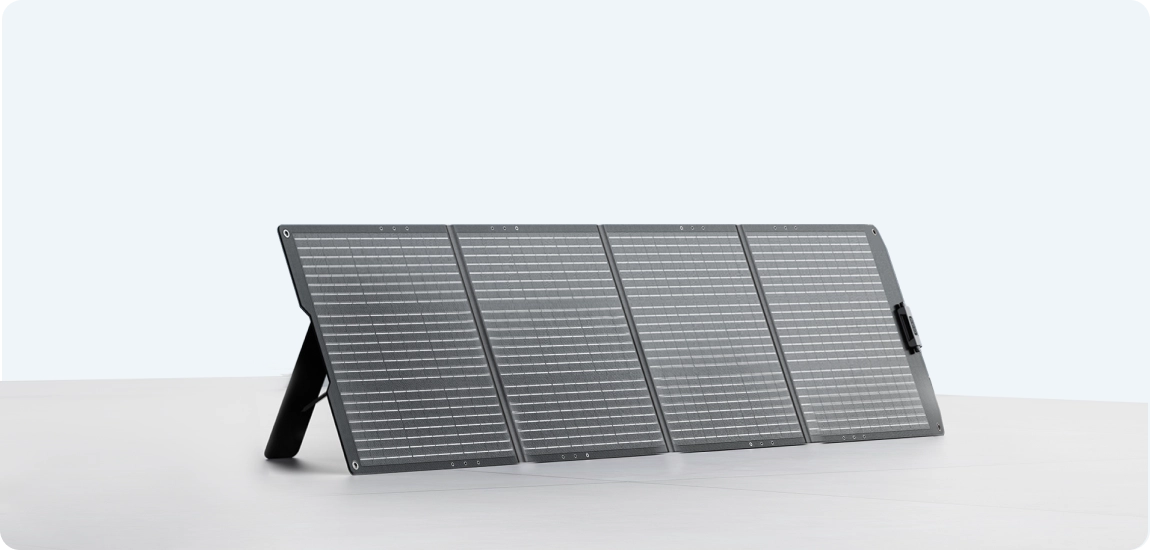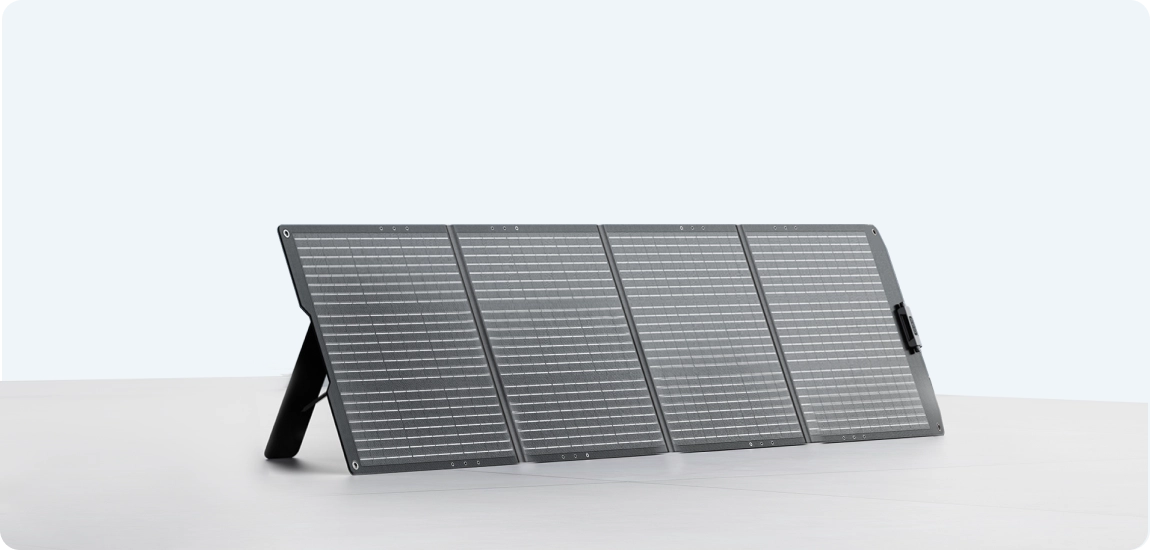 Infinity Solar Energy
Power Anywhere!
22%
High Conversion Efficiency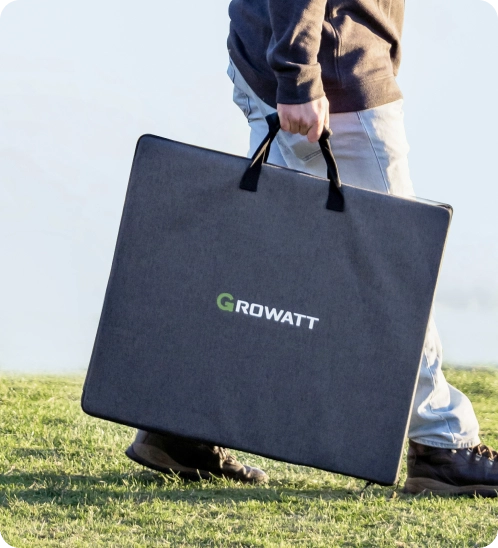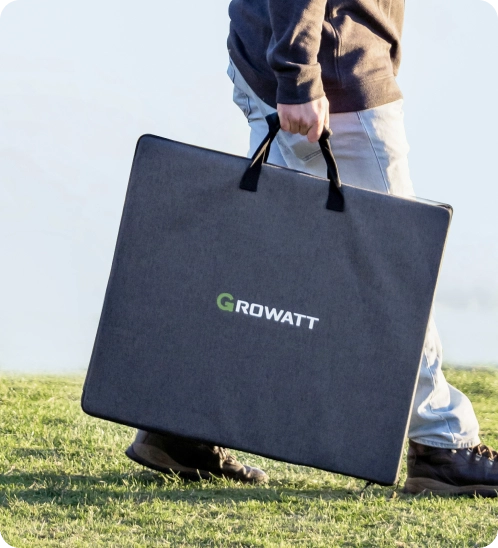 IP67
Waterproof &Durable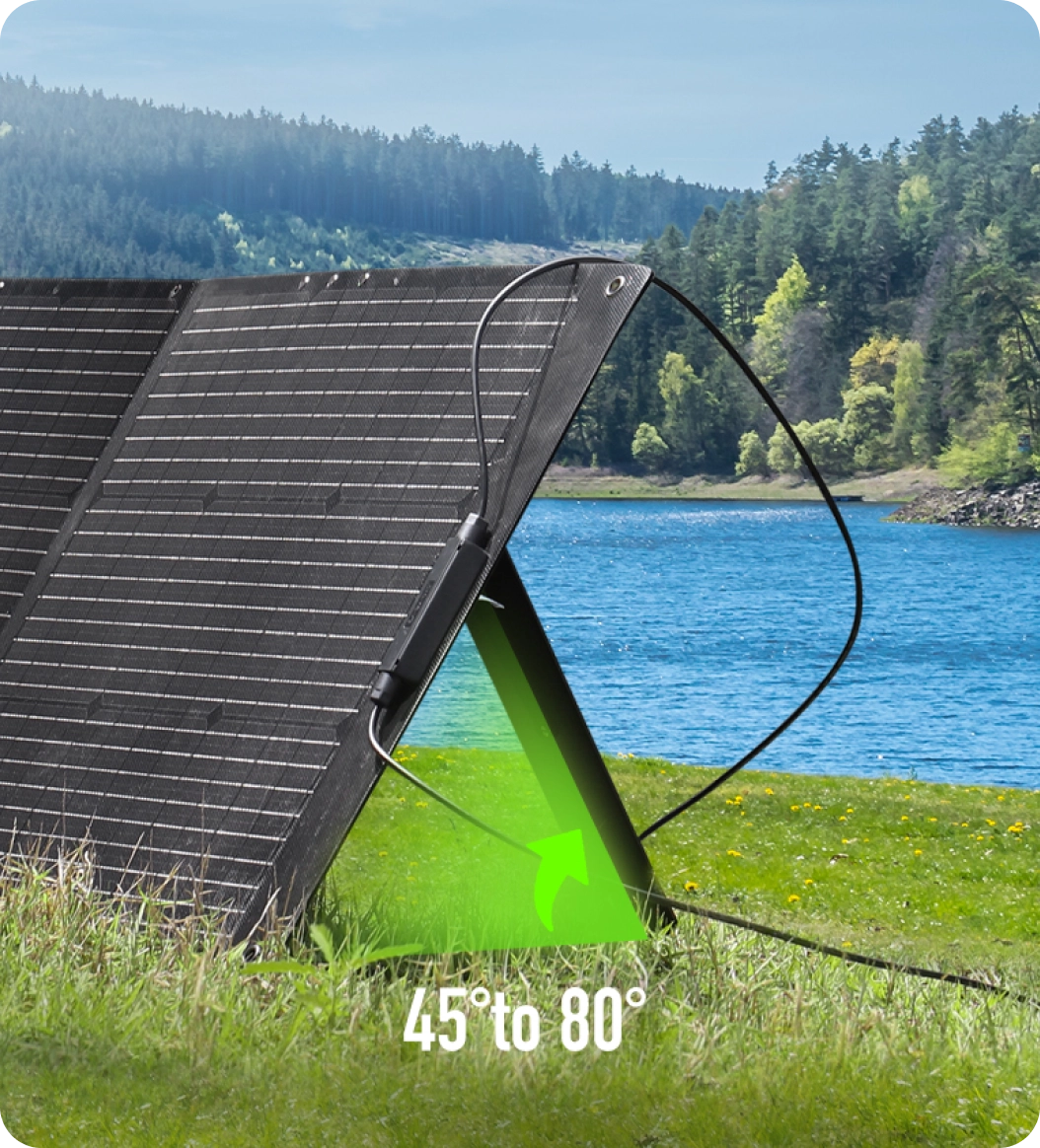 Adjustable Kickstand
The angle-adjustable design of the monocrystalline solar panel provides the most efficient tilt for your solar panels to maximize solar power production.
Easy on-the-go
Weighing 15.4 lbs, you can carry the 200W solar panel by a handle for camping, on a road trip, or in your backyard. No bulkier connect cables, no more heavy panels, and no more hassle!
Stay Powered Anywhere
Embrace the future of renewable energy and unlock the potential of portable solar power. Explore nature, embark on adventures, and power up your life with GROWATT Solar Panels.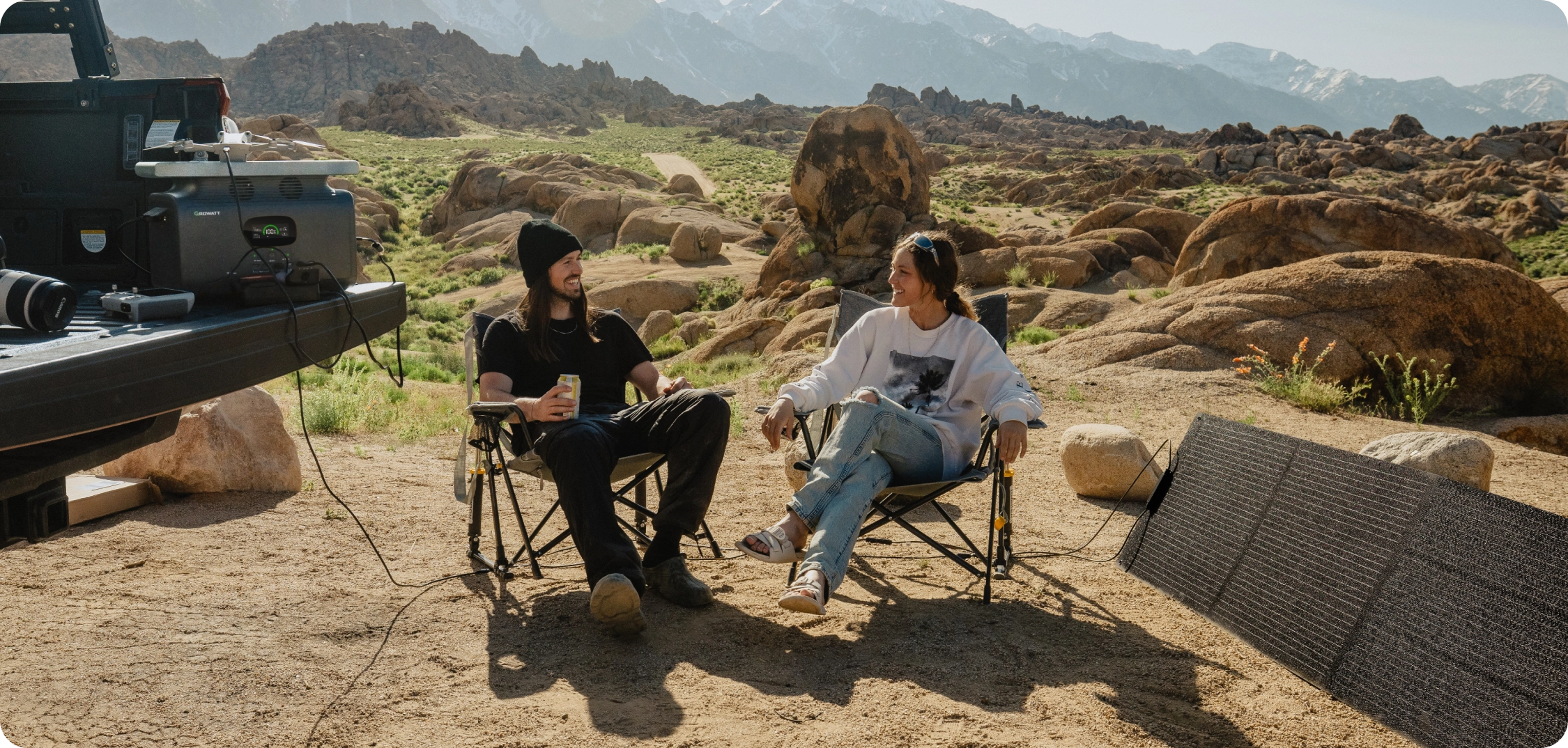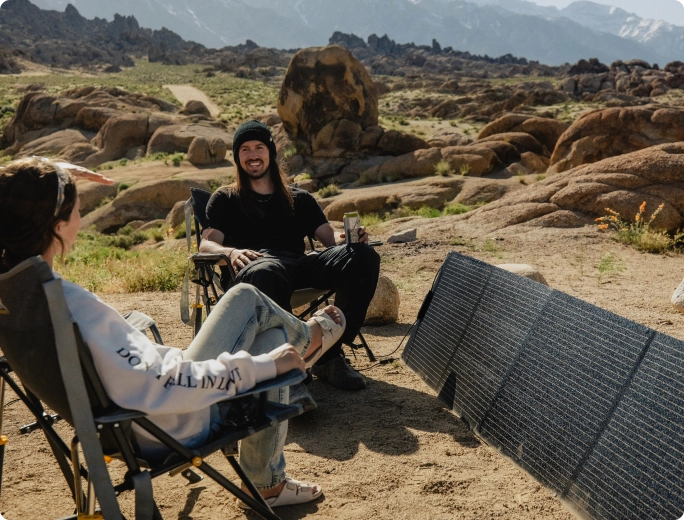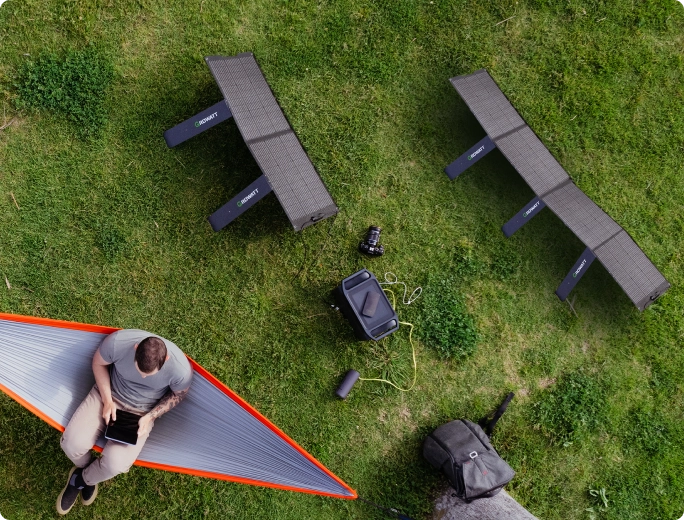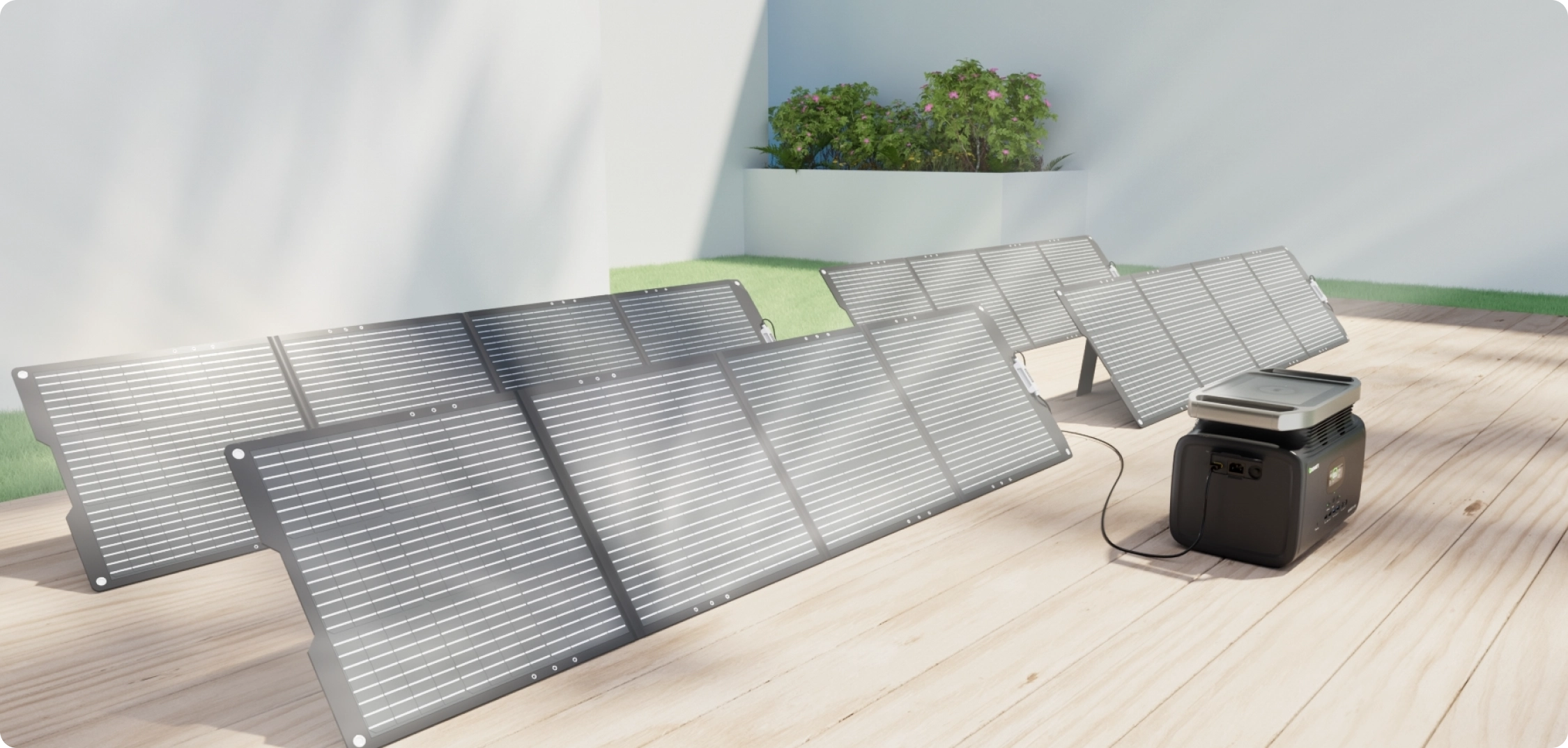 Packet List
Products Comparison
General
3.67kg (7.93lbs)
Total Weight
46 * 21.2 * 1in
Unfolded Dimensions
23.7 * 21.2 * 1in
Folded Dimensions
7Kg (15.4lbs)
Total Weight
92 * 21.2 * 1in
Unfolded Dimensions
23.7 * 21.2 * 1in
Folded Dimensions
Output
21.16V (Vmp 19.15V)
Output Circuit Voltage
24V (Vmp 22.8V)
Open Circuit Voltage
4.96A (Imp 4.71A)
Output Circuit Current
21.16V (Vmp 19.15V)
Output Circuit Current
24V (Vmp 22.8V)
Open Circuit Current
9.92A (Imp 9.42A)
Output Circuit Current