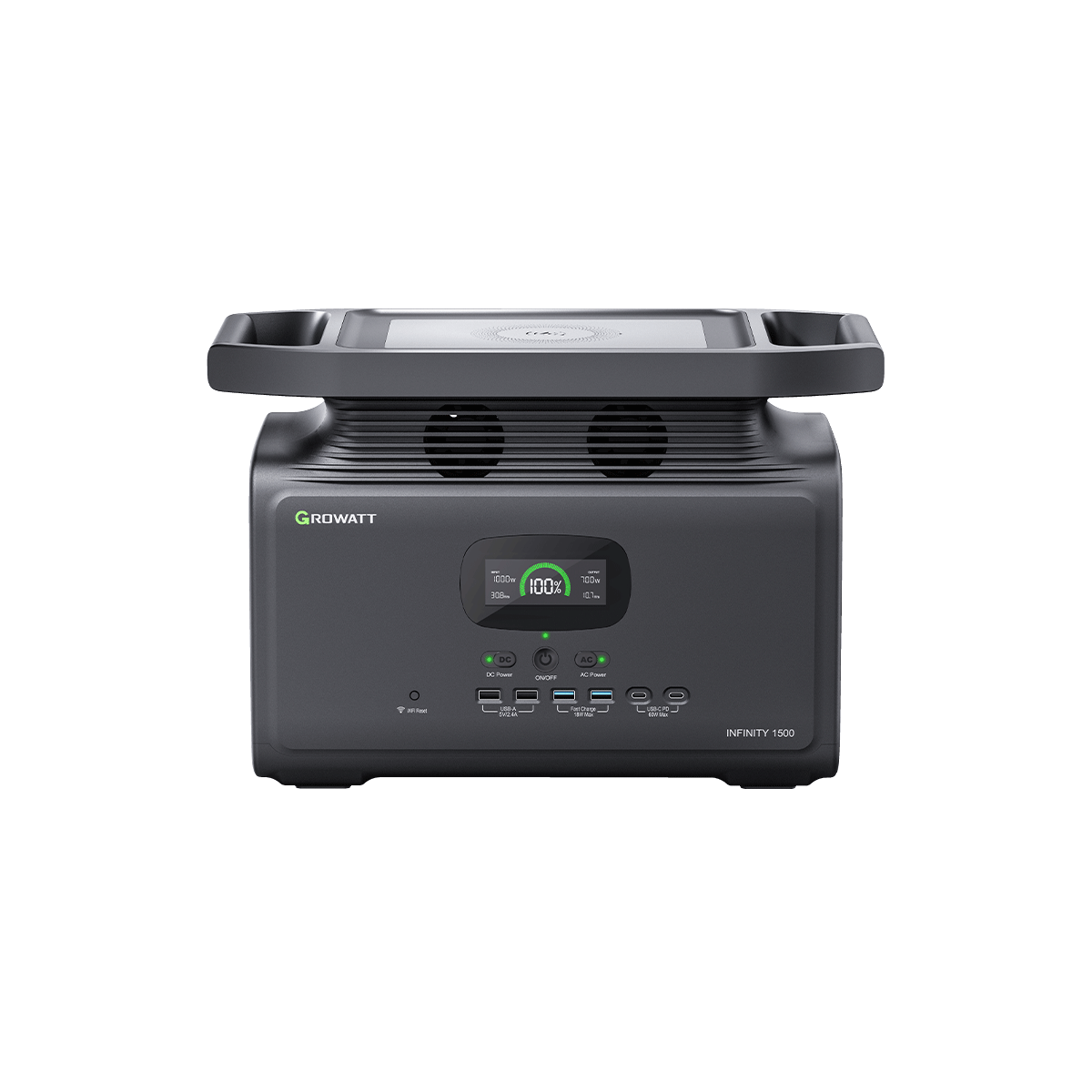 FREE SHIPPING
30-DAYS RETURN
2-YEAR WARRANTY
GLOBAL SUPPORT
Growatt INFINITY 1500
Portable Power Station
$1,299.00
Sale price
$1,599.00
-$300
Ends in
00
Days
00
:
00
:
00
1512Wh Capacity & 2000W Output 

Wall charge from 0%-80% in 1 hour;  0-100% in 2 hours

Up to 12 Diverse Outlets 


Reliable 24/7 backup power (EPS)

Easy & Remote Control via  App
2-Year Warranty
Features
Tech Specs
Reviews
Net Weight
Dimensions (LxWxH)
~36.4lbs (16.5kg)
16.5 x 9.1 x 11.3 in (418.7 x 230 x 287mm)
Certifications
Operating Temperature
ETL, FCC, IC, DOE, CEC, CA6
>-4 ~ 140°F (-20~60°C)
Warranty
UPS

2 Years

Yes
Battery Expansion
App Management
Connected in series to increase battery capacity (up to 3 units)
Yes (Wi-Fi and Bluetooth connection)
Lifecycle
Capacity
>800 cycles

1512Wh
MPPT
Battery Management
Support solar power MPPT charging
BMS: Under/Over Voltage Protection Over Current Protection
Short Circuit Protection
Overcharging Voltage Protection
Over Temperature Protection
Solar Charge
Vehicle Charge

2.5 Hours (Max Input under full sunlight)




800W (12-100V, 12A)

12-24V, 8A Max
Wall Charge
Car Cigarette Lighter

2 Hours, 1500W (100-120Vac)

13.6V, 10A (Regulated)
AC Output
Quick Charge 3.0

120V~, 60Hz, 2000W Max (Surge 4000W)



2 x 18W Max (5V/9V/12V, 2.4A)
USB-A



2 x 12W Max (5V, 2.4 A)



USB-C PD


2 x 60W Max (5V/9V/15V/20V, 3A)


Portable power generator
It's very quite, and so for I am very pleased.
RE Pedro - Fan Noise
Hey Pedro (review above) Just wanted to mention that In the Youtube review by HoboTech of this product he points out that within the app you can lower the inverter output and in doing so reduce the fan speed as well FYI. Hope this is useful info for you :>
Growatt review of this awesome little
This little thing works for our setup. We are currently going through our 1st winter off grid with our solar system. Through the summer our house system works great. In the Fall/Winter, it needed help at times. We have a Predator 3500 (actually 3000 watts) as backup. But of course, it's on the brink and isn't starting right now. I really didn't want to buy another gas generator when I noticed Growatt came out with this little bad boy. And since I have the SPF 3000TL LVM-ES from Growatt running the house and am pleased with the build quality and how it performs, I figured I would try out their portable power station. I love the fact that it has 3 charging methods (solar, AC, or DC from a cigarette lighter). Another big plus is that it doesn't require you to use proprietary solar panels. I basically have it hooked up to 3 spare 200 watt solar panels that I have laying around with standard MC4 connectors. If and when I need to charge charge the batteries for my house, I have no problem plugging this in to do so. I have been in connection with Growatt tech support about once a week for over a month. More or less just trying to make sure that I'm not doing anything wrong or that my expectations are in the wrong place. I will say though, when the temps are above 60F and the solar is charging, the fans work very loudly. Took a video and sent it to tech support and he confirmed that things are fine. With that said, it's awesome to be able to talk/email tech support for a product that you spend money on. We keep ours in our full size van, which is our everyday vehicle. We eat and sometimes sleep in our van. Usually we have a 120 watt inverter plugged into the cigarette lighter. This totally replaces that and so much more now, it's no problem to charge 4 laptops. This gives me the confidence to add a small oven in the van also. I've even jumped the van's battery off with a 110v battery charger (which now we keep in the back of the van also). The ultimate plan is to mount 2 panels on the roof to keep it charged. All in all, I love this little power station and it works for our purposes. I'm not trying to run my house off this and know the limitations of it.
I think it was worth the money. Very happy with it!
This thing is a beast!
This will run my entire office (desktop and 2 monitors) for about two work days! Starts and runs my freestanding 12k BTU AC unit and has no problem with refrigerator/chest freezer. Recharges super fast! My only complaint is the fan profile...It's fully charged next to me with no load, but the fans kick on every few min. Would be great if they could back the fans off a bit in future updates. I absolutely would recommend this unit and am very happy with the purchase.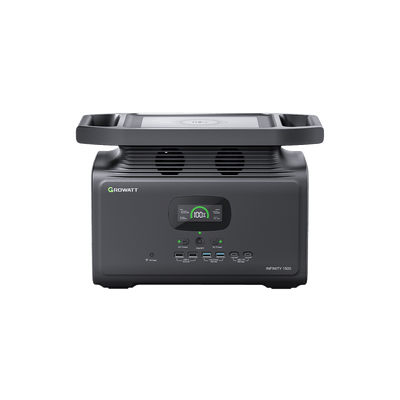 Growatt INFINITY 1500 Portable Power Station
INFINITY 1500
Power Ready for Everything
Feature Winner
One-Stop Energy Solution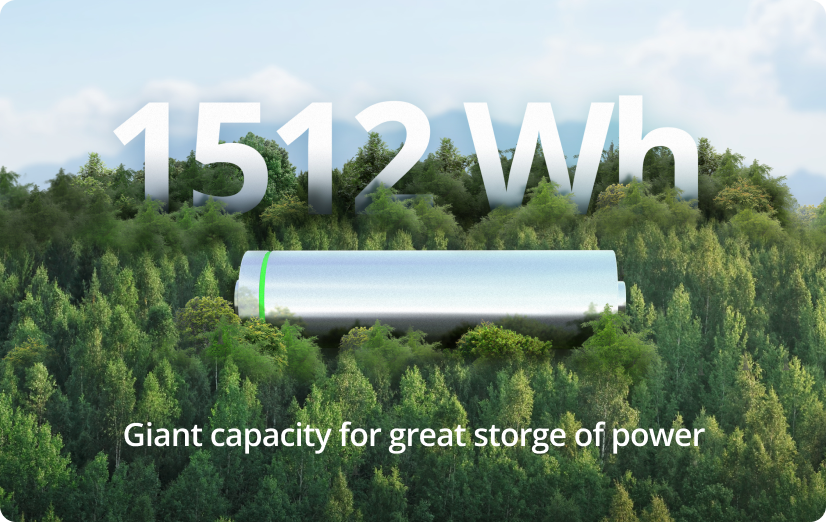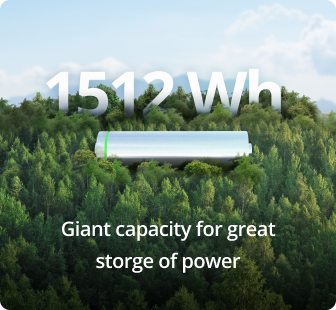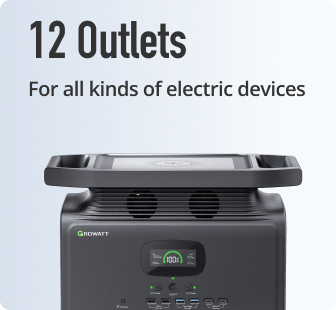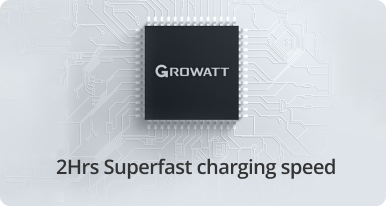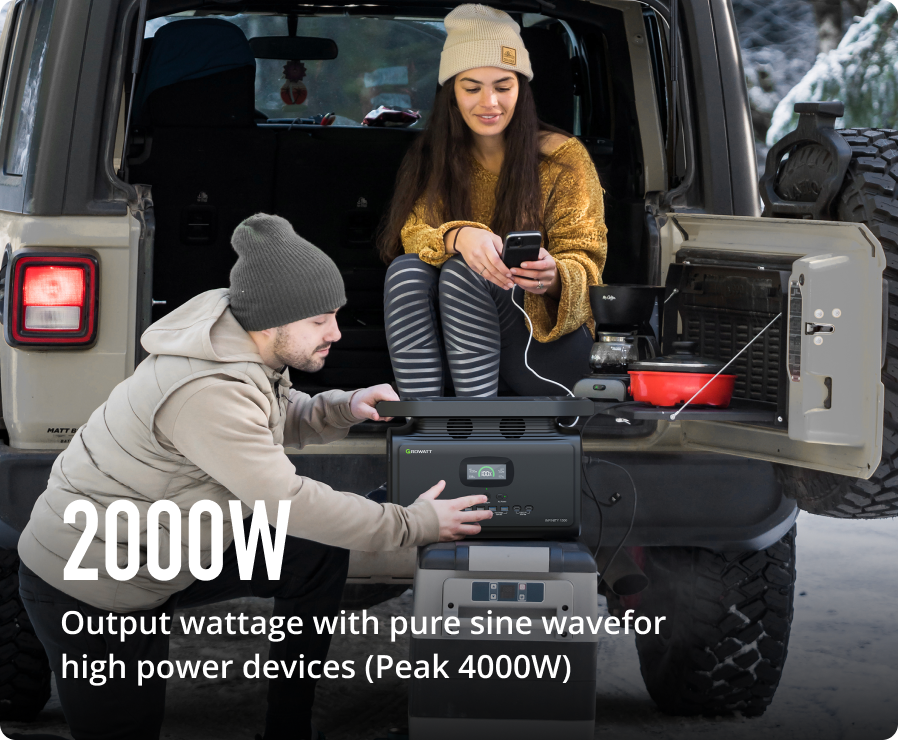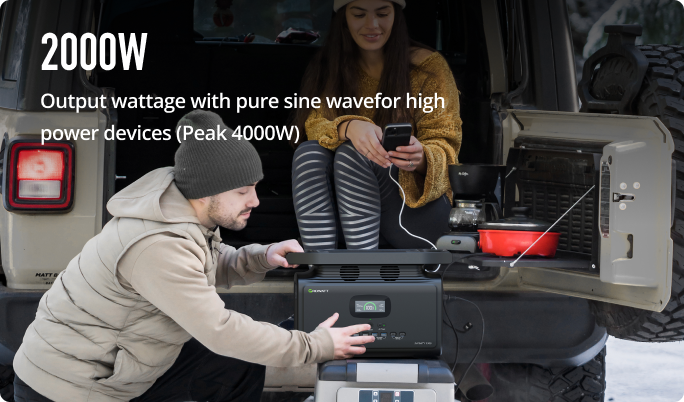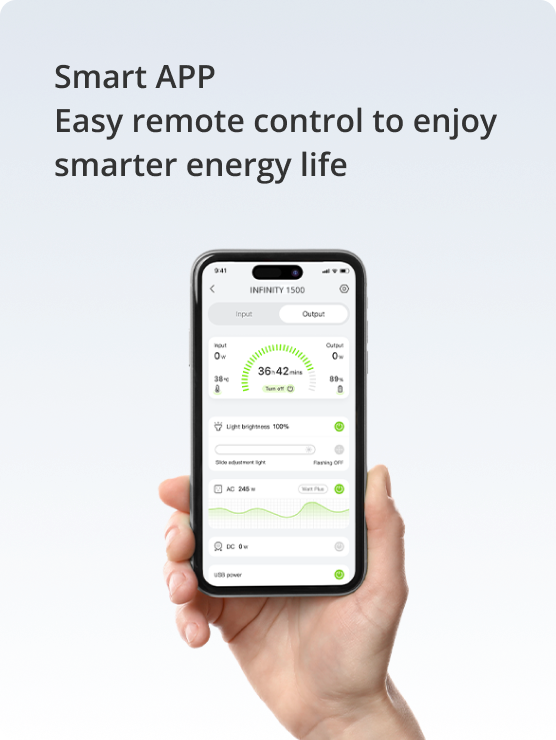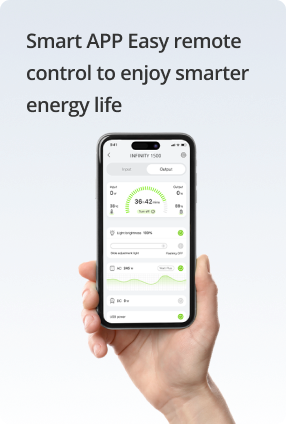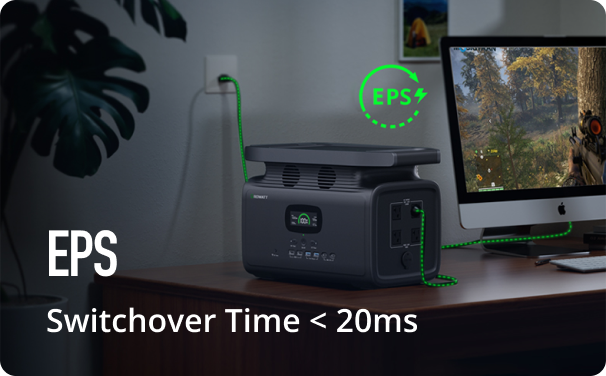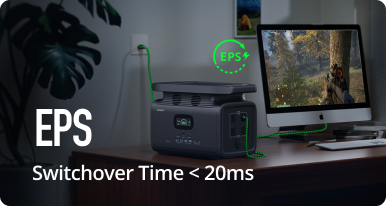 Power 95% of outdoor
devices & home appliances
Higher output means you can now power more types of heavy-duty appliances. Outdoor cooking would no longer be a problem. If you need air-con in a summer blackout?Turn it on and enjoy the breeze!
* Data comes from the internal lab, actual results may vary.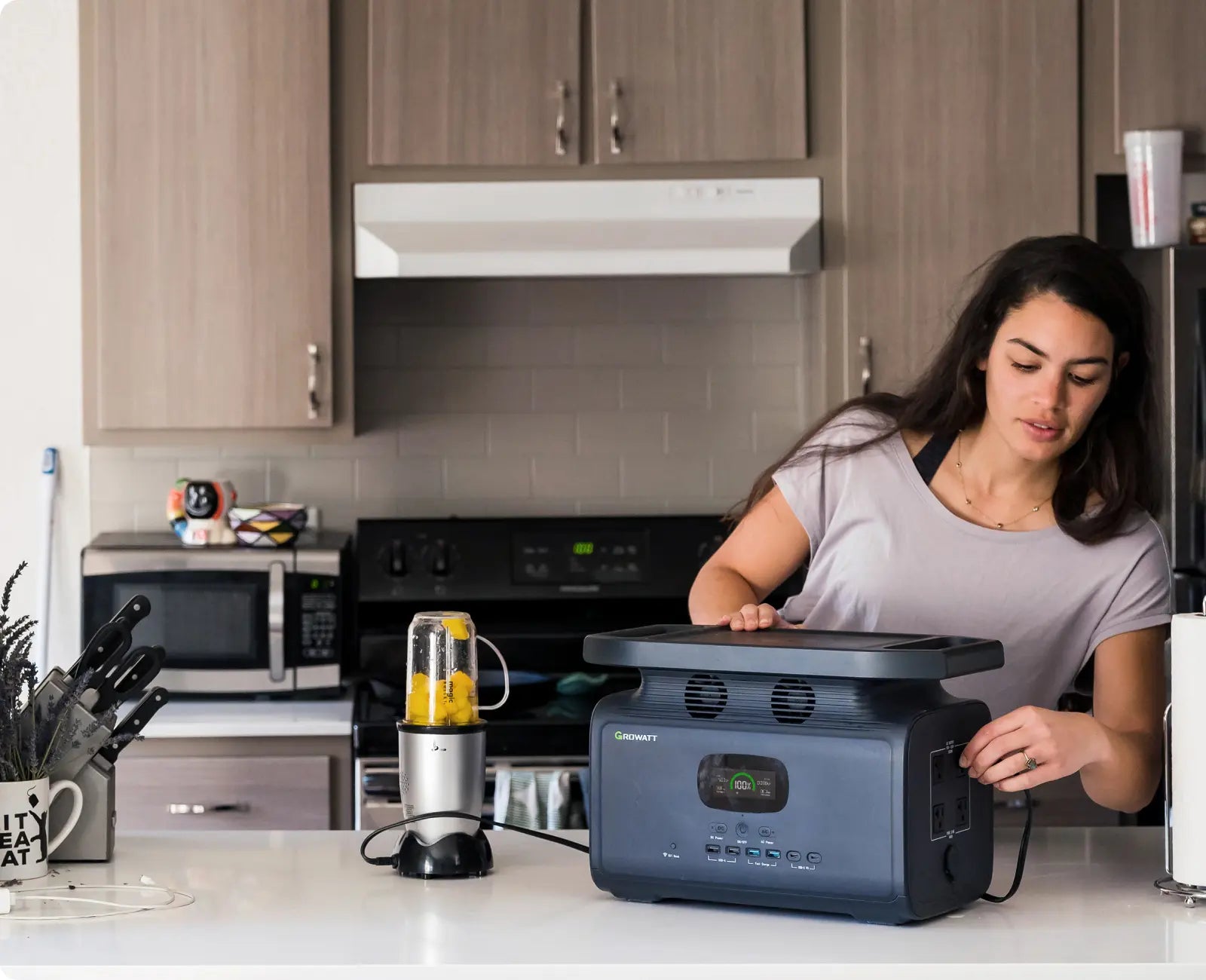 Home Backup
OFF-Grid Life
Professional Backup
Your Pro Selection
of Solar Generator
INFINITY 1500 can perform as a powerful solar generator in adventures as well as a reliable backup power at home to provide a huge capacity of 1512Wh and an impressive output of up to 2000 Watt. Wherever you need easy power, INFINITY 1500 would be your best choice.
Power Your Home
with 24/7 of Reliability
INFINITY 1500 is a great solution to keep your devices chargeo and critical medical equipment running during power outages Since you don't need to use dangerous fuels like gasoline or diesel, you can keep it indoors securely and ensure all your home appliances are in top working order.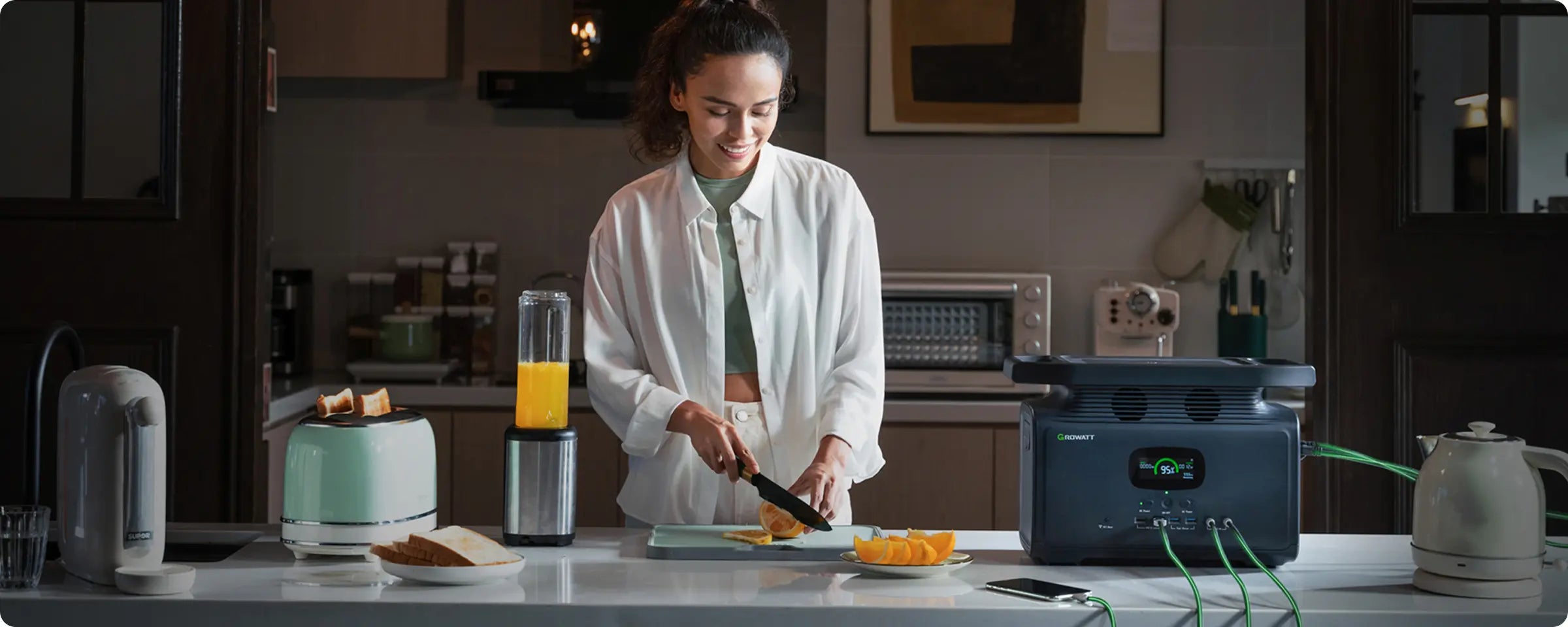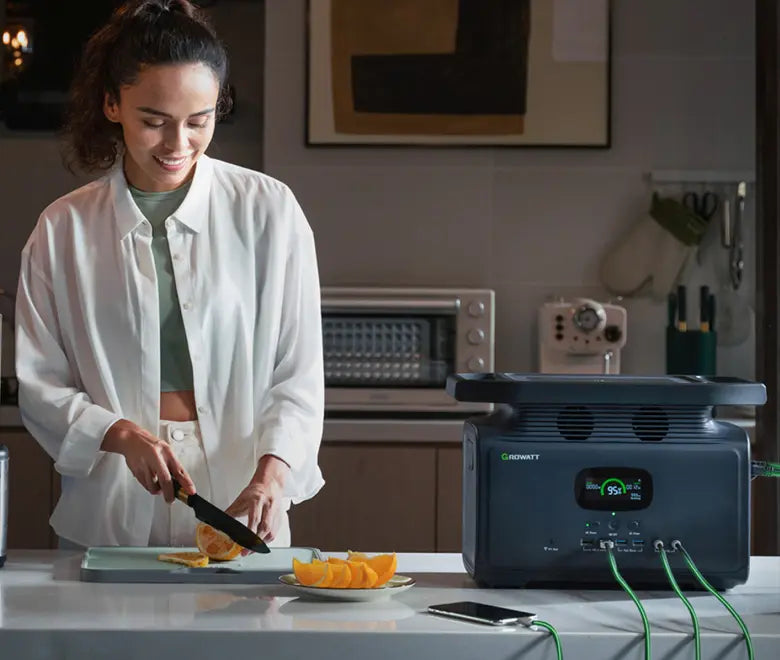 Three Fast Ways to
Charge INFINITY 1500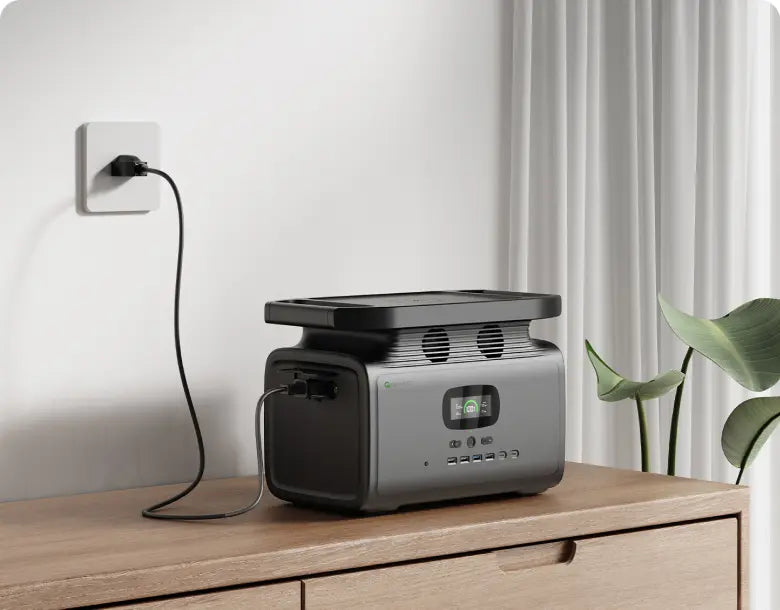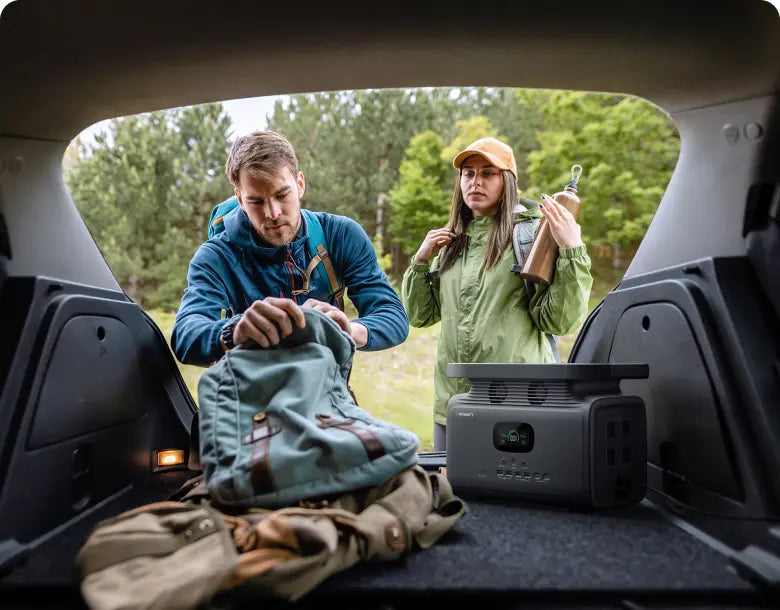 Multi Protection with BMS
Safety and reliability are always the top priorities for a solar battery solution. INFINITY 1500 comes with the industry-leading Battery Management System (BMS) and applies multiple protection mechanisms to guarantee the safe use of batteries.

EPS for 24/7
Reliable Home Backup
INFINITY 1500 features an Emergency Power System (EPS) to make sure all your essential devices are powered and connected. 20ms< power switch time frees you from concerns of unexpected shutdowns due to unstable grid supply.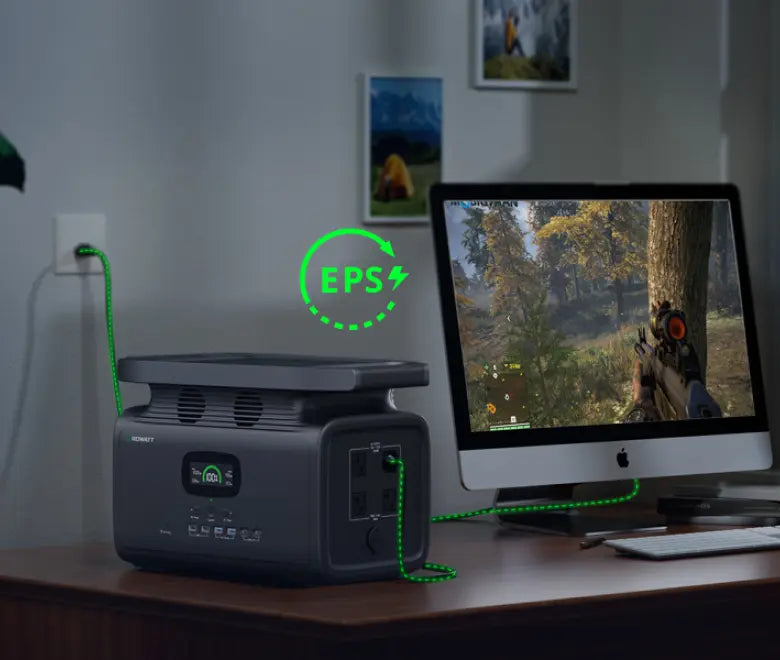 Make Your Power Smart
Growatt INFINITY 1500 comes with a smartphone APP that allows you to remotely access, monitor, and control your device. It also provides an easy way to reach our customer service to deliver the best product experience
Real-time energy
insights on the go.
View battery status live anytime,
anywhere.
Easily turn on/off output and
the connected appliances
remotely.
One Hub to Charge All Your Devices
INFINITY 1500 is a fantastic multi-tasker that can power up to 12 devices at the same time. Working on your laptop while playing your speaker? Not a Problem! How about a coffee brewing to start a wonderful day!
Products Comparison
Battery
>3000 Cycles to 80%
Lifecycle
>800 cycles to 60%
Lifecycle
>3000 Cycles to 80%
Lifecycle
INPUT & Output
12/24V, 8A
Vehicle Charging
1800W (Surge 3600W)
AC Outlet
13.6V, 10A
Vehicle Charging
2000W (Surge 4000W)
AC Outlet
12/24V, 8A
Vehicle Charging
600W (Surge 1200W)
AC Outlet
General
16.5 x 9.1 x 11.3in
Dimensions(LxWxH)
16.5 x 9.1 x 11.3in
Dimensions(LxWxH)
12.2 x 8.4 x 7.8in
Dimensions(LxWxH)
FAQ
Is Growatt INFINITY 1500 available in my country?
The INFINITY 1500 is only available to purchase in the contiguous US now. P.O. Boxes and Military Addresses (APO, FPO) cannot be delivered. Based on information from our logistics partners, they are unable to ship the product to other countries and regions. We are still looking for more flexible delivery options, and we will let you know once there are any updates.
When will the product be shipped?
It normally takes us 1 to 3 working days to process your order (holidays and weekends are excluded). And package will arrive within 4-10 business days. The time to delivery will vary depending on which batch you are in, your delivery address, and the speed of local couriers. We will keep you updated on the detailed shipping status and share with you the freight number.
How much is the shipping fee? Is the customs fee included?
Growatt provides free shipping for all orders in the contiguous US.
When and how can I check my tracking number?
You'll be able to check the tracking number as soon as we send out the package. *Please note that the exact delivery time will vary depending on your shipping address and the couriers.
How long does it take to charge the INFINITY 1500?
INFINITY 1500 portable power station charges from 0-80% in an hour, and only takes 2 hours to get fully charged! It supports up to 800W solar input for outdoor charging, and can complete solar charging in as little as 2.5 hours.
What type of battery does INFINITY 1500 use?
It uses NMC battery, which is safer and lighter, very convenient to carry outdoors.
Can INFINITY 1500 units be used in parallel?
No. INFINITY 1500 only supports the series connection. Up to 3 units can be connected. Battery capacity increases with the number of units connected. Connection can be achieved by connecting the AC outlet of one product to the AC input port of another product via an AC charging cable.
I have a 1800 watts microwave and 1800 watts hair dryer, can this power station power both at the same time?
The INFINITY 1500 is rated 2000 watts, it can easily power a single 1800 watts device, but it cannot power two of them at the same time.
Is it pure sine wave?
Yes, GrowattINFINITY1500 portable power station is pure sine-wave, which is for better protecting the devices.
Is it weatherproof?
Absolutely NOT. You need to keep it dry and clean for use.
Does Growatt INFINITY 1500 include a built-in MPPT controller?
Yes, INFINITY 1500 power stations have a built-in MPPT controller.
Can the INFINITY 1500 be charged while in use?
Yes, it supports pass-through charging.